It is coming to the end of another month and I honestly can't believe how fast time is going in these days. It feels like it was only yesterday that I was writing my last monthly favourites post, but here we are, February is just about over. February has been the month of my 20th birthday, a lovely Valentine's Day and plenty of university work to be getting on with. After a jam packed favourites post last month (blame the Christmas pressies!) I thought I would narrow it down to a few products this month, four to be exact.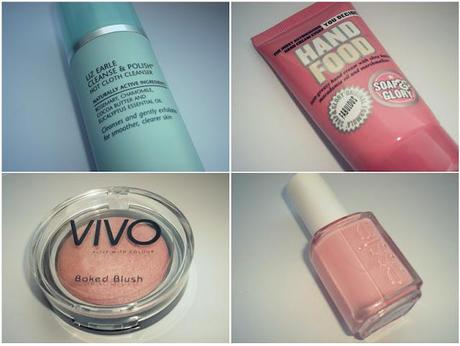 Liz Earle Cleanse & Polish Hot Cloth Cleanser: Yes, here is another blogging shouting the praises of the Cleanse & Polish. I received the starter kit as a lovely birthday present from David's mom after months of eyeing it up and I have to say that I'm so glad I finally have my hands on it. As I have only had this product for a week I can't exactly write a proper review (it will be coming soon, I promise) but I thought I would include it in my favourites as it has quickly become my staple cleanser and I have seen a lovely improvement to my skin since starting to use it. I have been using this cleanser twice a day and have found it to be great for removing my make-up at night.
Soap & Glory Hand Food: As a sufferer of constant dry hands this cream has been a god-send. This product has everything going for it with the signature Soap & Glory smell which is just gorgeous, a thick formula which isn't greasy and a handy travel sized tube perfect for on the go. I have a full review of this product here.
VIVO Baked Blush in Peaches and Cream: VIVO was a brand I'd heard a lot about but unfortunately my local Tesco never stocked the line. I eventually came across it in another store and had to snap up this baked blush which I fell in love with after swatching. As the name suggests, it is a peach shade with a subtle gold shimmer which I think will be perfect for summer time. Swatches will be up soon!
Essie Van D'Go: Carrying on with the peach mood, I recently added Van D'Go to my collection and am loving the pinky- peach shade with a great formula and great staying power. Another summer favourite, I can already tell. I recently posted a swatch of the polish here.