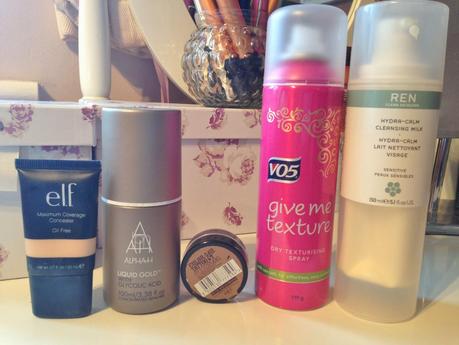 February is over already :o - except to see this after every month this year - how is time going so fast, scarily coming up to my 25th birthday. That's a quarter of a century - how has that happened?! Anyway onto my February favorites. Firstly is the e.l.f maximum coverage concealer I picked this up a while ago in one of e.l.f's 50% sales it retails for just £3.95 anyway. It's super creamy and pigmented so dabbing a teeny bit on any blemish covers it up straight away. I've been using this a lot this month and I love how it comes in a little squeezy almost foundation like tube. I'll definitely repurchase this as a small amount goes such a long way. 
I had to include Alpha H Liquid Gold - I won't go on about it because I blogged about just a few days ago so you can read my full thoughts here. I found my Maybelline on and on bronze in an overnight make-up bag at the beginning of the month - it had been treated badly and left amongst a bag I'd completely forgotten about. I first bought this in April 2012 and the lover affair has continued all that time. It's the only shadow I've ever finished and repurchased I use it as a base and a stand alone shadow.
I use the Vo5 Dry Texturising Spray like it's going out of fashion this is my 4th or 5th can. It's so versatile and fits into any styling I do or don't do to my hair. I won't go on about it any more than I have it's been used thoroughly during this month though and you can read my full review here. Finally I had to include the REN hydra calm cleansing milk which I reviewed last month. It's been a huge part in getting my skin back on form and also in making my skincare routine work again. It's so soothing and gentle yet really removes all the days grime from my skin. I love REN and this product is a part of the reason why.