Much has changed for Saskatoon's WYATT since they won the HoeDown Showdown at the Capital HoeDown in 2011.  In 2012 the group signed with MDM Recordings (Chad Brownlee, Bobby Wills) and 2013 was all about the music with 2  hot new singles ("Jesse James" and "Roll the Windows Down") and a brand new album Shoulda Been Here Last Night… which was released in late October.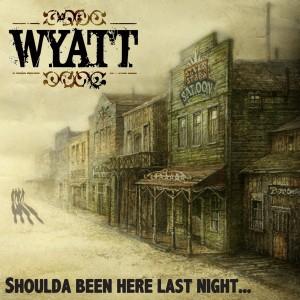 Shoulda Been Here Last Night…
There was something about WYATT that caught my attention when I first reviewed their album If I Had A Dollar back in 2011 but let me tell you this group has grown in the past few years.  Shoulda Been Here Last Night… is a clean cut, professional Country top 40 candidate of an album.  Opening track, "Jesse James", brings us to the wild west.  Wyatt, of course gets their name from famous wild west sheriff Wyatt Earp so this song is very fitting.  I hear a lot of Bon Jovi's influence in this track, it's a song that I could see on the next Young Guns movie soundtrack. Perhaps the song is a bit of an autobiographical song about how the band got their name with the second verse saying "I TRY TO BE A GOOD MAN, YEAH ALWAYS GIVE IT MY BEST, BUT TRUTH BE TOLD, SOMEDAYS I WANNA GO TO THE WILD, WILD, WEST", or then again maybe it's just a fun song that sounds great cranked on your car stereo either way it should be on your playlist!  This band keeps getting better and better, I personally can't wait to see what they have in store next.  Success in music is made up of moments, some live and some on record, Shoulda Been Here Last Night…, is the one of those moments for WYATT.   This album, although officially their 3rd, marks the beginning for these prairie boys.  The sound defines the very essence that is WYATT, it doesn't get any more real than that.
WYATT is currently traveling across Canada promoting their new album and all of their singles are available for you to request at your favorite Canadian Country Radio station.  The group delivered a Christmas present to Country Radio, and their fans, on Christmas Day with the release of the third single off of Shoulda Been Here Last Night, "Always Tonight".  Watch for WYATT coming soon to a city or festival near you!  Here's a sneak peak at the new single, "Always Tonight"
For more information on WYATT be sure to visit www.wyattmusic.com!