I first got to know the members of River City Junction about a year ago while I was working with the organizers of the 1000 Islands Jazz & Blues Festival.  River City Junction was slated to open the event with a free concert in the Brockville Farmers market.  As I started to do my homework on this group I quickly realized that they are far from just a bunch of musicians jamming, rather they are a group of finely tuned professionals who could easily share the stage with anyone.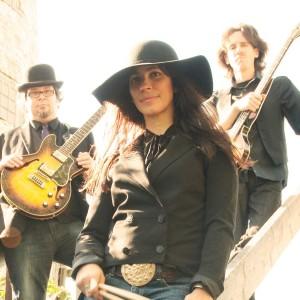 River City Junction
My first opportunity to actually catch River City Junction live was at yet another free event, the Downtown Brockville May sidewalk sale last year.  It was a cool, windy and rainy Saturday and crowds in downtown Brockville were light at best.  We were actually headed back to our car when 3 musicians setup just down the block from us and started to play.  Their sound got our attention and drew us, and I quickly realized almost everyone else that was still downtown, closer.  As soon as I saw Caroline on the drums, belting out her powerful vocals I knew that this was River City Junction.  Suddenly the weather didn't matter so much anymore, the kids were into it, my wife was into it, it seemed that most of downtown Brockville was into it.  The trio made up of Caroline Addison, Jason Fryer and Tom Joanisse makes their home in the Thousand Islands Region of Ontario where they also run Tone King Records, their record label. You can regularly catch River City Junction at venues along the 401 corridor from Toronto to Montreal as well as throughout Ottawa and the Ottawa Valley.
Recently River City Junction held their own with renowned blues artist Jerome Godboo and Eric Schenkman of the Spin Doctors at a venue in Kingston, Ontario.  The group has graced the stage at Ottawa Bluesfest several times and is regularly on the bill at events throughout the eastern Ontario region.  The best way to describe River City Junction would be like this; If Janis Joplin and Jimi Hendrix had a baby and that baby was a band, River City Junction would be it.  There has never been an event where I have not seen them draw a crowd, that one show in Brockville I'm certain people just appeared out of nowhere as they started to play.
Although they have graced the stage at Ottawa Bluesfest twice now (2010 and 2013 at the Bluesfest Casino venue), like me, River City Junction has had a taste of the Bluesfest bug and wants to get back on that stage again this year.  The way they can draw a crowd they would make the perfect act to lead into one of the headliners.  Regardless of whether or not we see them at Bluesfest again this summer one thing is certain, River City Junction isn't going anywhere anytime soon, and with a new in-home recording studio and record label my guess is we're going to be hearing more from this trio more often. Most recently River City Junction reached the #4 spot on the Reverbnation Blues Chart for Canada.  If you want to know more about River City Junction, or even better book the group (tell them Sound Check sent you!) checkout their website (which they designed themselves, told you they do it all!!) www.rivercityjunction.com