Novembers Featured Product of the Month is the Euro-inspired Flen Double Sink Vanity from one of our most trusted manufacturers. JWH Imports has stuck to their knack for modern bathroom vanities while straying from the tendency to incorporate black and white into their designs.
The Flen Vanity has many special features that have earned itself a spot on our featured products list right before the busy Holiday season. This is the time where many homeowners have extra time around the house to begin that long-awaited bathroom remodeling project! Tradewinds Imports is here to help you out along the way by providing you with valuable insight that will help to get the ideas flowing!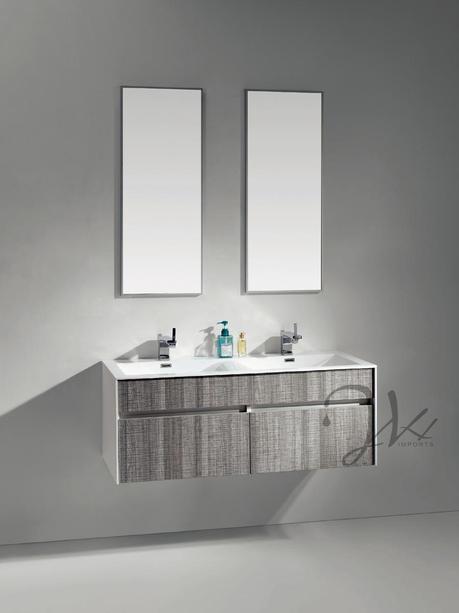 JWH Imports
JWH Imports' dedication to quality and satisfaction is evident in their various models of modern bath vanities. While models such as the Grand Lune and the Crater have been frequent Best Sellers, the Flen introduces a completely new style to your bathroom! If you take a look at some of their other products, you will quickly notice a striking difference between this collection from those in the past. These modern vanities differ from other vintage styles offered by well-known companies like Bosconi.
European Inspired Bathroom Vanity
Instead of fashioning this vanity into a single tone, the Flen Double Sink Vanity has white side walls and a dramatic gray ash facade. The traditional use of white provides an airy feel to your bathroom while a unique textured finish adds artistic style that makes a bold statement. Following patterns of popular European designs, the Flen emits a character that is not common in the United States and as such, markets itself as a rare jewel that can be hard to find.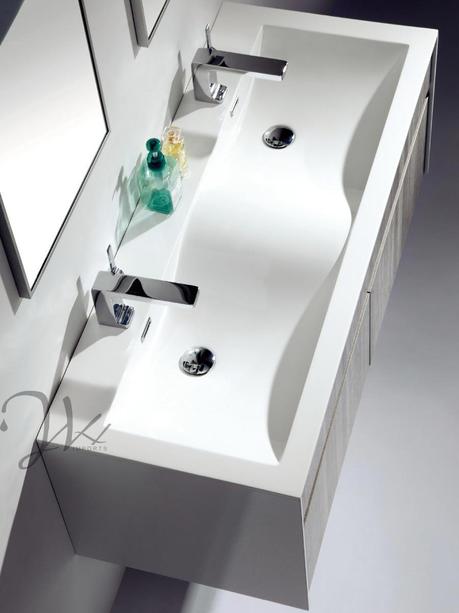 The Floating Design on this vanity give it a certain edge and a look that is simple and clean. (More information on Floating Bathroom Vanities.) Without the distractions of ornate decorations, the Flen Double Vanity keeps in line with minimalist fashions that emphasize architectural lines. Functional details elevate this vanity into a class of
luxurious bathroom vanities
that elicit all of the perks that make life a little easier!
Special Features of the Flen Vanity
If you peer at the close-up of the white acrylic top, you'll notice a unique integrated sink that is creatively divided by a sculpted wave design puts a new spin on the traditional sink. Decorative chrome inserts accentuate the room while minimizing the eye sore of overflow drains.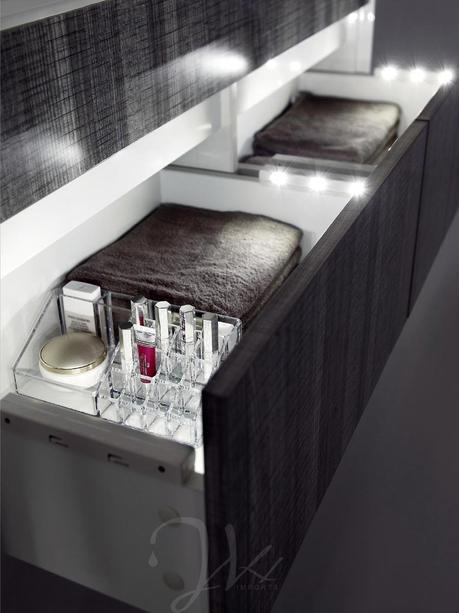 The Flen vanity spares no comfort by including soft-close glides on each drawer and cabinet panel. These hinges use tension to slowly close cabinets doors safely and quietly,
eliminating any pinching hazards
that may be experienced by slamming drawers.
With two spacious soft-close drawers, this new addition to the JWH Collection offers plenty of room for all of your essential grooming supplies. This unit is available with an optional matching side cabinet provides extra storage for kids toys, linens, personal hygiene products, toiletries, and other cosmetic supplies.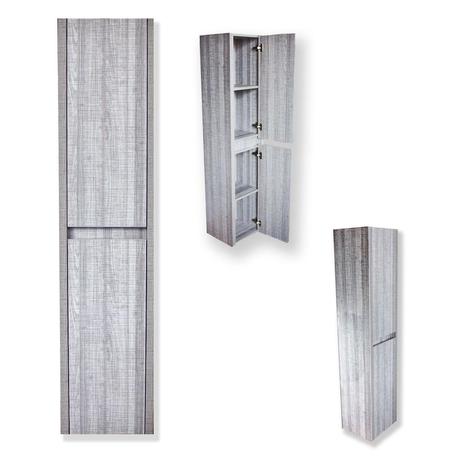 To view specifications about this vanity and find out details on pricing, please visit the Flen Double Vanity Product Page to learn more. You can also reach our friendly Customer Service Team by dialing
1.888.900.0477
. To view other
euro-inspired vanities
, you can follow this link to browse similar vanities that may work better for
small bathroom layouts
!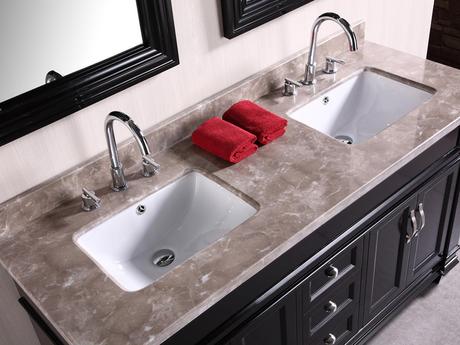 October's Featured Product of the Month: The Hudson Double Sink Vanity
If you enjoyed this post, be sure to check out October's Featured Product of the Month, the Hudson Double Sink Vanity!
About this Post
Cheryl Khan is an interior designer who loves sharing new ideas on Facebook and Twitter. There she actively participates in several groups that are centered on conversations about design, home improvement, and DIY projects!