As much as I love wallpaper – and believe me I do – I'm a little over wallpaper as a feature wall. It seems to be everywhere, and it's almost as if some people have forgotten that there are other options for a feature wall. Don't get me wrong, I've done the feature wall thing and loved it. I also love wallpaper but I think that if your going to do it, commit fully to it and wallpaper the whole room. Current trends seem to follow bright bold patterns on wallpaper, which I personally think are suited to smaller spaces like these ones. Bathrooms are perfect spaces to experiment with patterned paper. I especially love this flamingo from Cole & Sons, you can find it online from about £70.


If however, you are looking for alternative ideas to wallpaper, here are a few of mine. Most of these are really easy to do, or to change once you get bored of them. Wall decals in particular are fantastic, and you can even design your own.  I love this one for a sitting room, it's from Etsy. They ship worldwide, and it's only $28.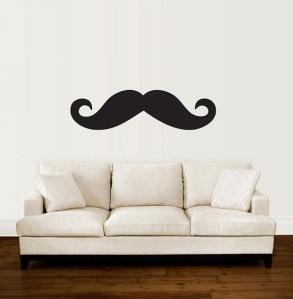 Mirrors are another great option particularly if the room your putting them in tends to be dark. You could use loads of mirrors like this bathroom all grouped on the wall, alternatively one or two really large mirrors on a wall look great.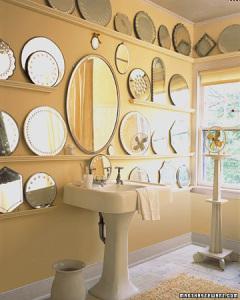 If your room has a particular theme, for example, this nautical theme for a boys bedroom looks fantastic with the whale wall decal, oar and boats.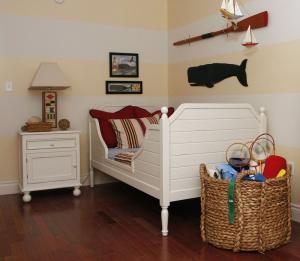 Mounting plates on a wall is a design feature that has been around for so long. I love this slightly modern take on it. The plates aren't pattered and the colours are just stunning. If your interested in doing this, you'll need a plate hanger. Amazon have loads depending on your plate size. I've included the link at the bottom of this post.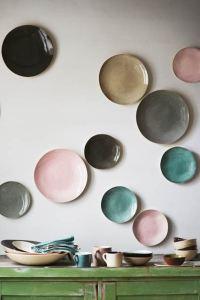 Covering a wall full of treasured pictures makes a stunning feature wall. I love how all of these lean against the wall in a very casual fashion. The black and white theme lends a modern quality,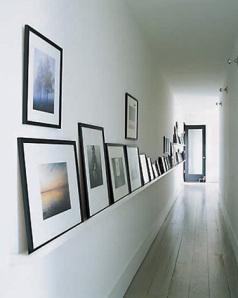 I hope this post has given you some ideas if your thinking of changing or introducing a feature wall to any room in your home. If you want some more inspiration, check out my board on Pinterest, the link is listed below.
Etsy Moustache Wall Decal: http://www.etsy.com/listing/99417445/mustache-vinyl-wall-decal-10-x-36-wall?utm_source=Pinterest&utm_medium=PageTools&utm_campaign=Share.
Amazon Plate Hangers:
http://www.amazon.co.uk/s/ref=nb_sb_ss_i_2_12/278-2813476-2167861?url=search-alias%3Dkitchen&field-keywords=plate%20hangers%20for%20display&sprefix=plate+hanger%2Ckitchen%2C264
Pinterest board:
http://www.pinterest.com/ewhoriskey/feature-that-wall/