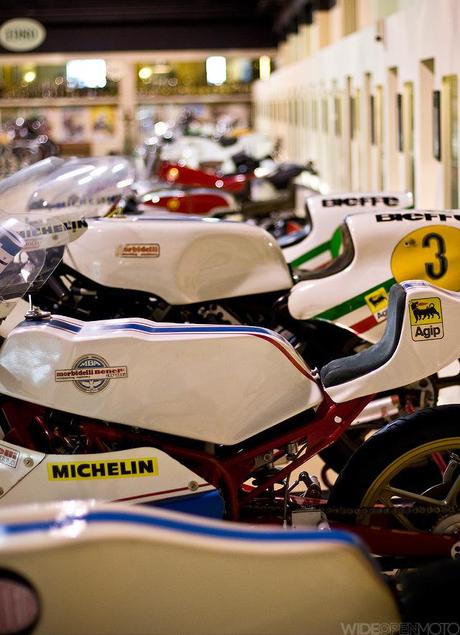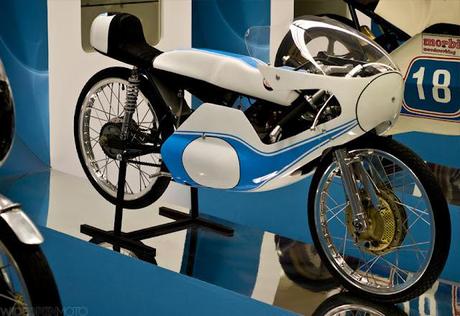 Morbidelli 50cc Gran Premio.
I thought my visit to the
Museo
Morbidelli in Pesaro, Italy would be the usual motor-museum thing; bored receptionist to greet you, a wander around looking between bike and the corresponding information card stuck on wall, bike, card, bike, card,
bike, card
. 
This visit however, was going to be a little bit different...
Instead of a bored receptionist, the first person I met was the man himself, Giancarlo Morbidelli, and he wasn't bored at all, he was attempting to mow the front lawn with an uncooperative electric mower. I suggested he give up on the mower and try a pair of scissors but the joke didn't translate very well into Italian and he looked at me like I was 'special'. We soon hit it off though when he discovered I was an Australian with a girlfriend from Pesaro; later in the afternoon, when his friends dropped by for a chat (including Marco Benelli of Motobi) he had great fun in introducing me as the Australian who'd come to steal their women! 
He took me on a bike-by-bike tour of his collection, each one seeming to have one of those great motorcycling stories attached and a joke or two. I can't say I looked at a single info-card but it was surely one of my most memorable museum experiences.
This isnt going to be an informative article covering the history of Morbidelli or an inventory of the collection (as I couldn't possibly do either justice here), but rather some nice photos and a story or two from one of the great names in Italian motorcycling and a lifelong certified motorcycle nutcase! The photos shown here are the tip of the iceberg- you can see many many more here- and I advise you to!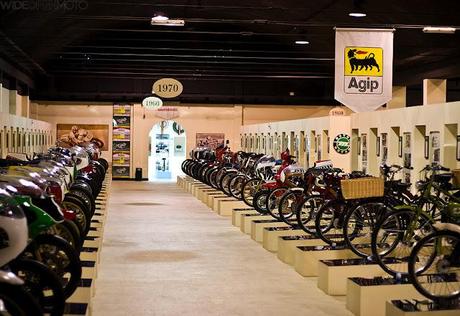 Exotic racebikes on one side, everyday motorised bicycles on the other.
Giancarlo Morbidelli is one of Italy's 'self-made-men', born into a farming family in 1934, he finished technical college and started a company designing and manufacturing woodworking machinery which was sold around the world. He did well during Italy's industrial boom times, and put the proceeds into his lifelong passion; motorcycles. He began racing with bikes from established manufacturers (including Motobi), but soon began developing and building his own racers, eventually winning multiple world GP championships with various riders including Graziano Rossi, father of Valentino and Eugenio Lazzarini whos Piovaticci GP bikes we were lucky enough to check out. When asked why he went racing with little to no profit or benefit to his machinery business his answer was: There's a bit of petrol running in the veins of every Pesarese. Its just how it went...
His R&D and manufacturing center was setup in a small room inside the machinery factory, today, it houses the most successful and important racing machines.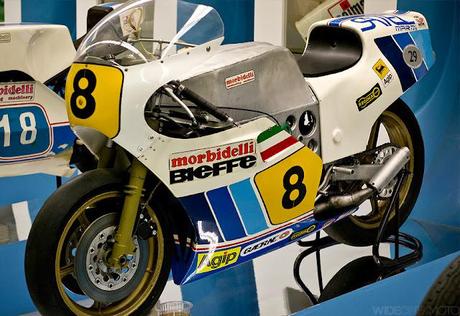 Aluminium monocoque framed GP machine with square-4 two-stroke engine and top secret suspension which was deliberately covered from view by large body panels!
His collection is made up of many bikes; restored himself, presented as-found or a couple as private pieces on loan / exchange from other collectors.
He told me that on birthdays and anniversaries he would give his wife some nice jewelry. His wife instead would drive around the nearby farm houses, knocking on doors to ask if they had any old Moto Guzzis or Benellis rusting in their sheds that she could buy as gifts! Bikes are presented as unrestored as possible; Morbidelli believing they are more beautful that way (even if almost completely oxidised); he showed me a gorgeous, immaculately restored Harley he regrets because it looks too 'painted'.
Many times he would excitedly show me his own fabrication work; the brazed sheet-steel petrol tank and cast ally filler cap of a Norton 18 OHV Supersport, the carved-foam tank mould-master of a GP Benelli produced from a single photograph of an old magazine. When bikes are so rare that finding missing parts is impossible, theres only one option- to get your hands dirty.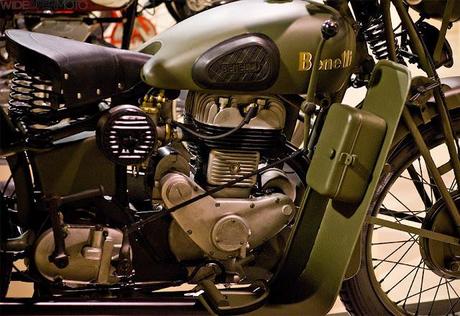 WWII Benelli 500cc used by Italian troops. This particular bike was being ridden along the Adriatic coast from Pesaro to Fano when it overheated. The rider went to get assistance and when he returned he found a couple of fisherman were cooking mussels by sticking them between the engine fins! The salt water damaged the iron barrel and the aluminum parts as well.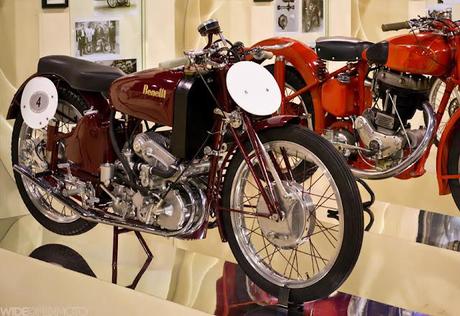 Benelli 250cc supercharged GP machine.
A Lambretta scooter built up by G. Morbidelli to contest the Milano-Taranto race. Note expansion chamber and huge Dell'Orto carb. This thing will apparently do 160kph with a tailwind! A previous year he built up a similarly impressive Ducati Cucciolo (photos here).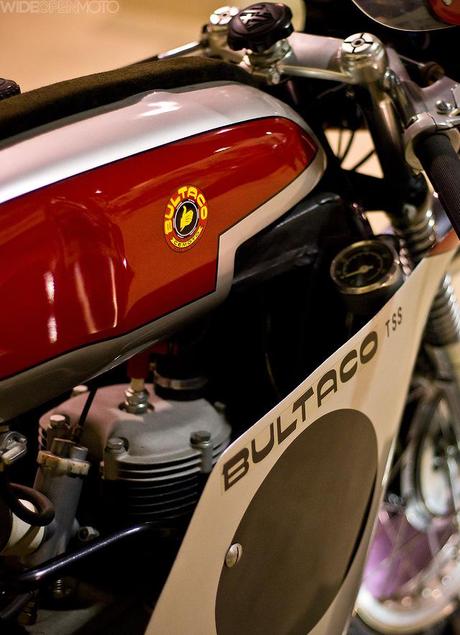 A Bultaco TSS 125 GP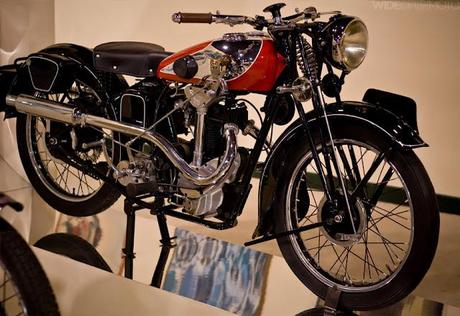 Italian C.M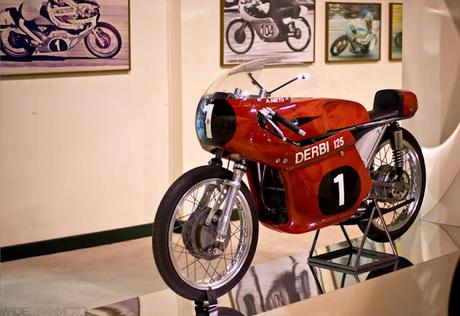 Derbi 125 GP as raced by Spaniard Angel Nieto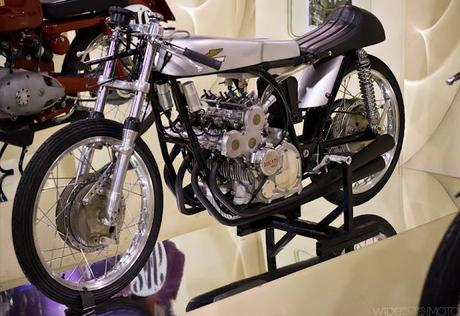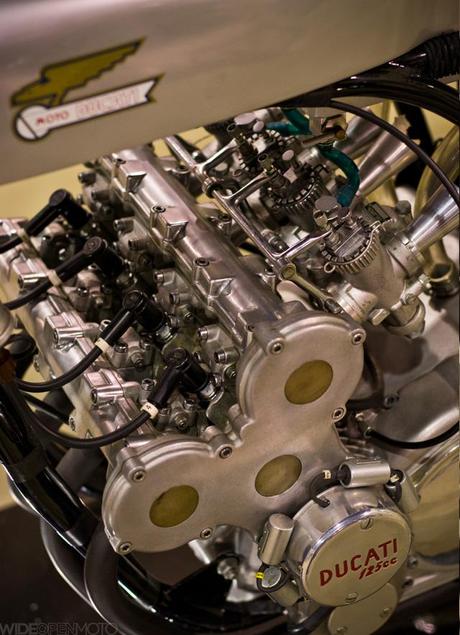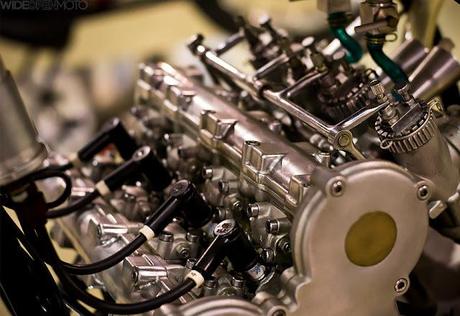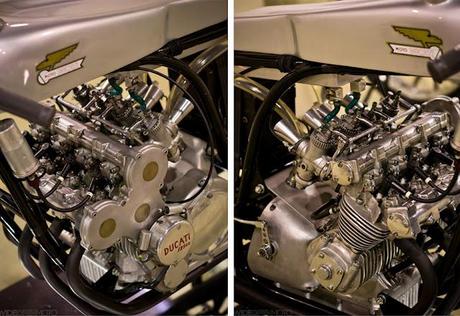 The super rare Ducati 125cc 4 cylinder GP bike. Only 1 exists. It was tested extensively but never hit the track in anger.The engine of this bike was tracked down in Latvia while the frame had ended up in former Yugoslavia! The bits were reunited and the bike restored.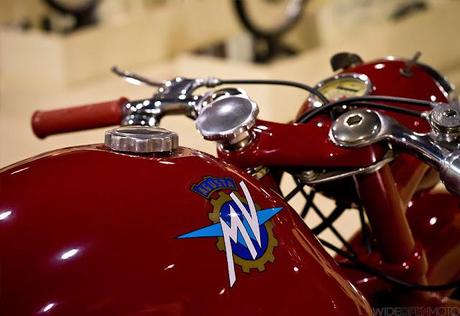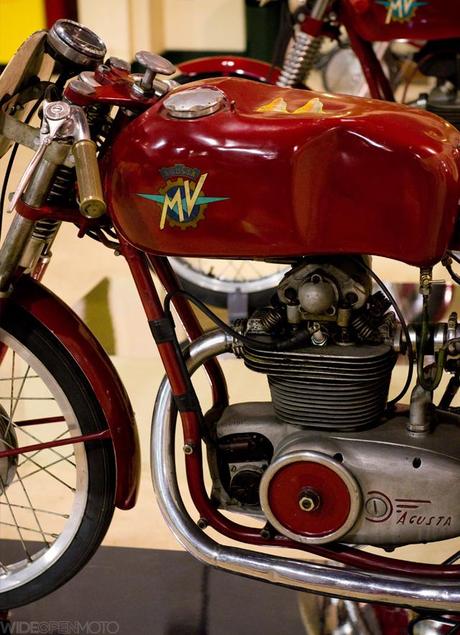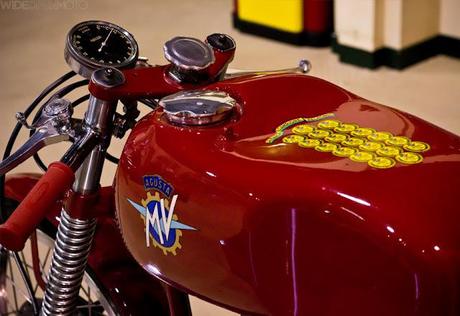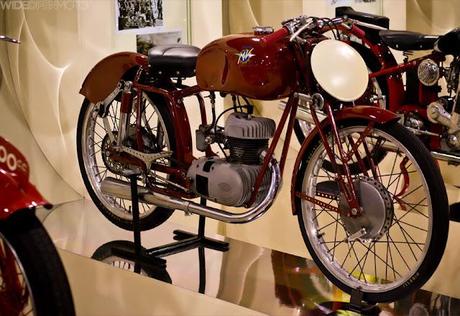 MVs are well represented in the collection.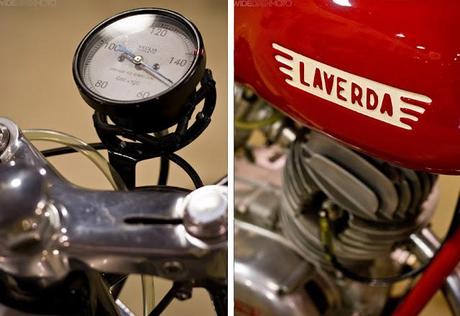 A nice Veglia tacho and Laverda single.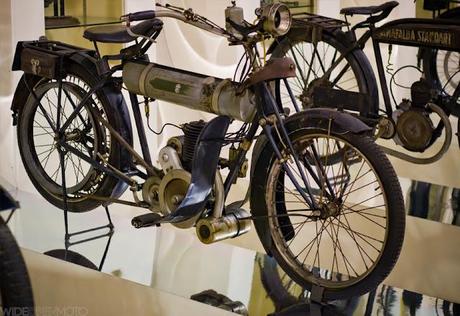 1920 Triumph Junior LLW 225cc. This belonged to an English student studying in Florence until he lost it in card game and went home disgraced. It became the pride and joy of the Italian winner and was passed down through his family until it came into the hands of Morbidelli.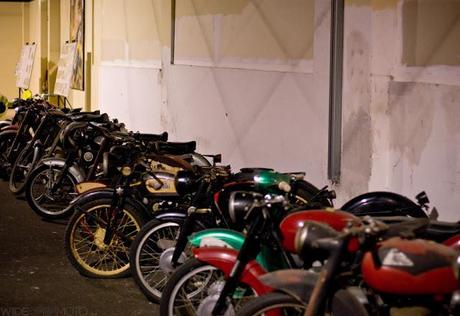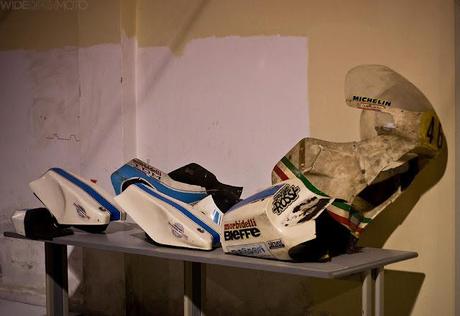 Bikes and parts are lined up in the storage area for restoration and/or inclusion in the museum. In case you're wondering- yes, Graziano Rossi is the father of The Doctor. He won three Grands Prix on a Morbidelli 250.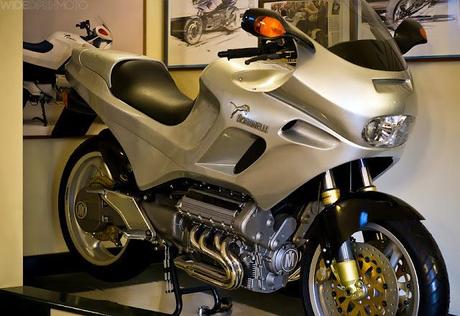 The last Morbidelli motorcycle; the 850cc V8. A Pininfarina-styled gran-tourer, beautifully engineered but too expensive to produce and found a confused market; Morbidelli saying that the bike was designers to be a tourer but many potential customers wanted an out-and-out superbike or racer to which it wasn't suited. Only 4 were ever produced.
Giancarlo Morbidelli's museum is the result of a lifetime devoted to motorcycling and at almost 80 years of age his activity doesn't seem to be slowing; he continues to seek out and restore motorcycles for the museum and negotiate deals with other museums including the largest in the world- the Barber Motor Museum who have a couple of Morbidellis on display.
Upon leaving he gave me an exaggeratedly firm handshake and said " not bad for an 80 year old eh?" I agreed and challenged him to an arm wrestle; literally, arm of iron in Italian, he suggest an arm of aluminium instead since it was lighter...
(will keep you posted on the results of the arm wrestle next time I drop in at the museum...)
Grazie mille a Giancarlo Morbidelli and please see the rest of the photos here.