The Raymond Lee Jewelers' Ebay store has a selection of our wide variety of gorgeous designer jewelry and luxury estate jewelry. You can peruse the selection virtually to find that one piece that makes your heart go pitter patter – or you might be tempted to visit our showroom to see our whole selection. Feature Friday highlights new additions, hot pieces, or otherwise gorgeous jewels.
This Friday, we're featuring a gorgeous pair of 18K white gold Raindrop pave diamond drop earrings. These stunner sparkle brighter than a disco ball and are completely on trend for fall (remember what we told you about longer, dangling earrings?) With almost 11 carats of diamonds, these earrings are "iced out." Behold, specs below!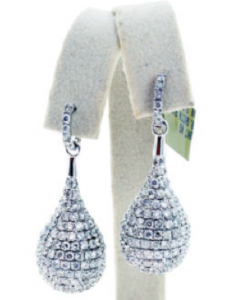 Category Gold and Diamond Earrings
Style Drop
Description 18K White Gold Raindrop Pave Diamond  Drop Earrings
Weight (including stone) 8.4dwt (13.0 g)
Gemstones Diamonds are VS/SI in Clarity, H/I in Color (10.96ctw)
Measurements  1.5″ long and just under 1/2″ at its widest
Back Hinged Pave Hoop and Post
These gorgeous earrings are currently for sale in our Ebay store – click here to view more details.
Liz for Raymond Lee Jewelers, your source for diamond jewelry, luxury estate jewelry, and designer jewelry,