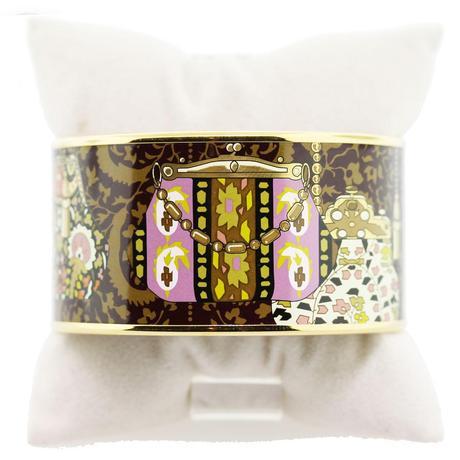 Is there anything more fabulous than an Hermes handbag? It's hard to argue, but an homage to the iconic bag – on a gold plated enamel bangle – is a pretty glamorous tribute. This maroon and lavender bangle is playful yet elegant, and we'd love to have an arm party with Hermes bangles stacked up our wrists!
Product Description
Brand Hermes
Style Bangle
Material Gold Tone
Print Handbag Print with Maroon Background
Measurements  1.5″ in Wide
Size 7.5″
Clasp No Clasp, Completely Closed Bangle
Retail $770
Additional Details Comes With Original Hermes Box, Pouch and Booklet
The rest of our authentic Hermes bangle selection is discontinued and extremely hard to find; be aware that they're going quick, so be sure to scope them out now.
Liz for Raymond Lee Jewelers, your source for diamond jewelry, luxury estate jewelry, and designer jewelry,