Happy Friday, lovely readers. Today we're back with Feature Friday, showing off another gorgeous piece from Raymond Lee Jewelers' eBay site. Sometimes, it's so hard to pick just one stunning piece from our trove of online auctions, but this particular piece has been catching my eye in the showroom as well.
This David Yurman 18K yellow gold and amethyst Albion ring is a stunning, bold option for any Yurman collector or appreciator. Recognizeable by their large, faceted candy-colroed stones, pieces from Yurman's Albion collection are the perfect way to make a jewel toned statement – just in time to spruce up your Little Black Dress for its barrage of holiday cocktail parties.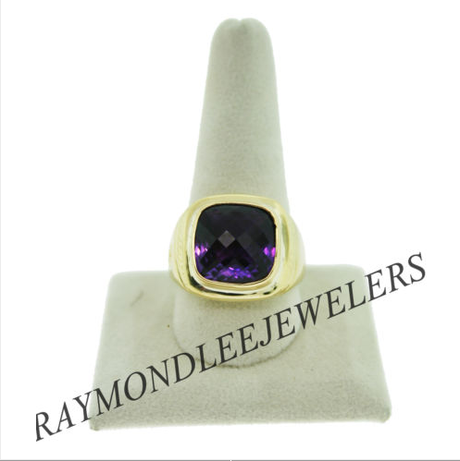 This Albion ring is chunky, but still feminine, and makes a big statement without being ostentatious – simply perfect for the upcoming holidays.
Click here to view this piece in our eBay store.
Liz for Raymond Lee Jewelers, your source for diamond jewelry, luxury estate jewelry, and designer jewelry.