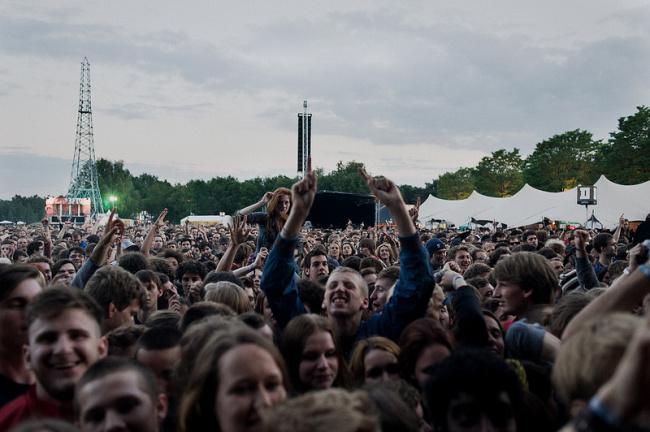 Best Kept Secret was a debutant among the European festival scene this June, presenting a wealth of both established and new acts for us to get our teeth into. Situated in a forest in Tilburg, Holland, this three day showcase was perhaps a little more cosy than its raucous (and typically filthy) counterparts, that most of us have become accustomed to in the UK. Nevertheless, such an intimacy presented a slightly different proposition. Its diminutive size allowed us to feel connected to our new European mates, despite not knowing whether they were pleased at our offerings of Haribo or laughing at our below par camping skills.
From the off, the weekend was well received. Bloc Party frontman Kele Okereke claimed it was the best time he'd ever had in Tilburg. Those attending this year would be hard pushed to disagree – this was an event that lived up to the ethos of being 'all about the music', whilst throwing a whole load of extras in for good measure (namely a beach, world foods and a safari park out the back).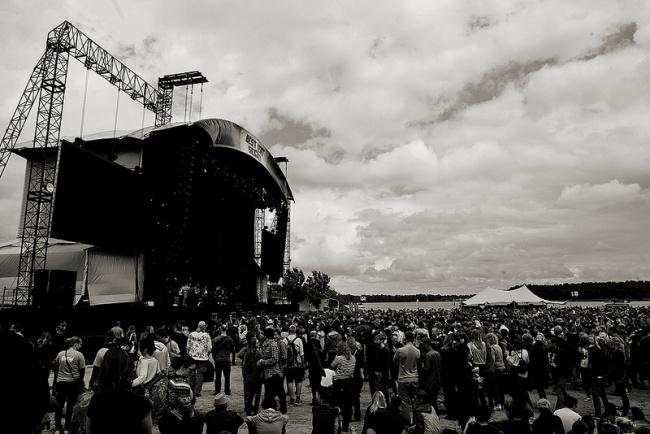 The opening day was without question the most eagerly anticipated, with some massive acts on the bill. Despite this, it was the first two acts we got round to that demonstrated the diversity of the music on show. Drenge kicked it off; a 2 piece playing driven, punk influenced guitar. Although the Drop D tuned tracks tired a bit towards the end of the set, the desire from the young duo to put on an entertaining opener kept most of us attentive. Poles apart from Drenge were Swim Deep, who were a quirky, flowery guitar-pop band dressed in charity shop outfits. Alongside synth swathed numbers, their Cyndi Lauper cover epitomised their eighties vibe. Perhaps the most important moral that can be drawn from their set, however, is not to wear Timberland boots and an oversized cardigan in unison at any costs.
The Maccabees were the first act we caught on the mainstage beach, proving to be one of the best acts of the weekend. Although some of their earlier work was included, they indulged in their more deep, emotive tracks that populated Given To The Wild (Child, Feel To Follow, Forever I've Known). The technical intricacies from the record were reflected brilliantly live, heightened by great crowd interaction. Lead guitarist Felix White grabbed a photo of the audience after everyone got all nostalgic over We Grew Up At Midnight.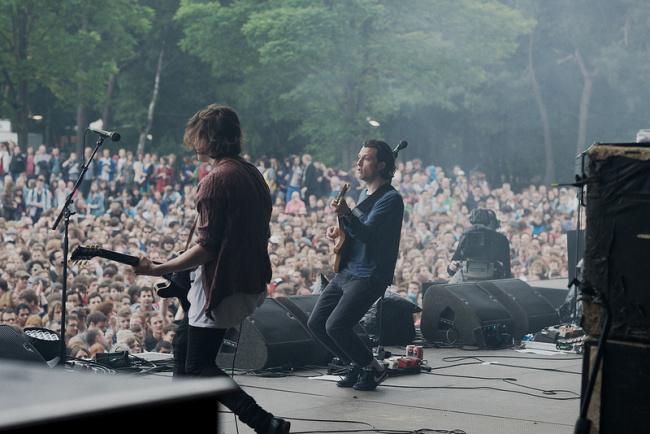 Bloc Party were soon up, debuting new indie dance track Ratchet, getting everybody moving even though it was alien to most. They hosted a generous helping of tracks spanning their discography, as well as some fresh ones from last year's record, Four. During the latter stages of their performance, Kele dedicated one to the ladies, which began as Rihanna's We Found Love (I was bewildered and somewhat displeased), but I quickly realised that the chord progression would materialise into Flux – a far more exciting proposition in my eyes. It was a poignant set, especially as they're bowing out indefinitely after Latitutde in July.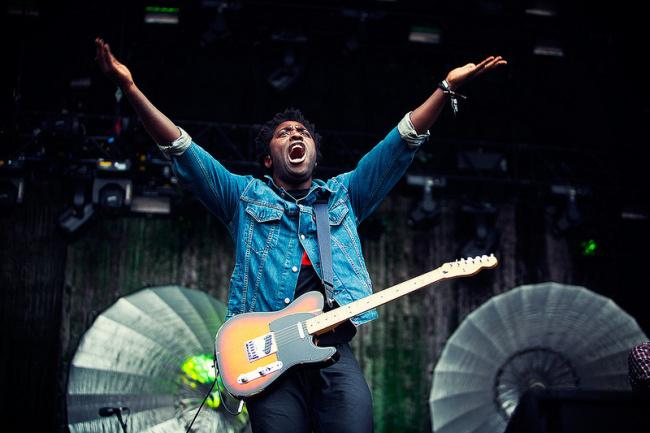 Friday's headliners Arctic Monkeys justified all of the hype. The new single Do I Wanna Know was a moody, pulsing opener, instantaneously seizing control over the audience. As sundown beckoned, frontman Alex Turner declared the moment a fitting one for Pretty Visitors, where the crowd did all they could to recreate a metaphorical 'snakepit on the wall.' We heard what was probably only the third or fourth live rendition of Mad Sounds, a Velvet Underground-esque piece of songwriting that will debut on their fifth record, AM, this September. Upon their encore, they returned with acoustic renditions of Cornerstone and Mardy Bum, followed by A Certain Romance, with crowd voices a few thousand strong.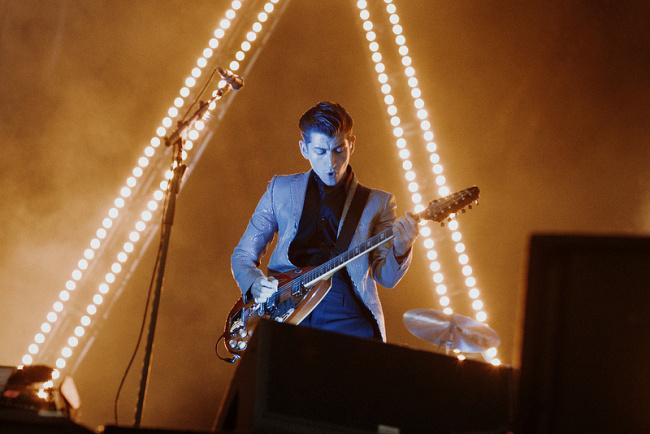 Later, we'd meandered to a packed out third stage to catch Tyler, The Creator. A few of the Odd Future members were on stage, the atmosphere lifting the lid off the festival's smallest tent. We may have heard Yonkers about three times in half an hour, too. However, it was evident here that the sheer hype of performance probably played a bigger role than the actual lyrical content, assisted somewhat by the frequency of the 'your mum' jokes between the performers. Tyler's cut-throat lyrical angle, with its occasional bouts of violence and misogyny, also served as good dancing material to some oblivious 40-something couples, which was pretty amusing.
Saturday arrived. Our first objective was to investigate the enigmatic Stage Four, which was actually a crescent-shape of ship containers marking out a dancefloor. I seem to recall The Happy Mondays, Martha and the Vandellas, Daft Punk and that guy that did Mambo #5 playing within relatively quick succession. Moving onwards, Two Door Cinema Club were the first notable band of the day (apart perhaps from Indians, whose sombre electronic swooning really should have been a midnight affair, but I digress). Two Door were satisfying a mainstage crowd with their upbeat and accessible pop guitar vibes, but not exactly setting the world alight. This was soon cut short for us anyway, as Alt J were due to play an absolutely heaving second stage. The ravenous crowd were treated to a glorious set, mathematically precise, musically intricate and utterly distinct. Ultimately, it's refreshing to see them doing their unique thing so successfully within today's saturated musical marketplace. Cue a sweaty, rammed tent getting their Eastern groove on to Taro.
Damien Rice was Saturday's headliner, whose acoustic performance was sorrowing, and almost mournful, although he was impressively captivating for a solo artist on such a large stage. He reminisced over meeting a woman in a bar, re-enacting that night's events by drinking four glasses of wine in five minutes – a solid effort.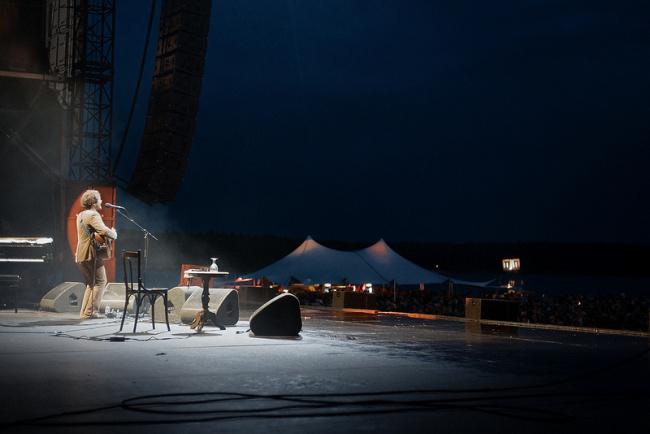 Midnight had soon closed in. Before seeing four-piece female outfit Savages, I was aware of their recent plaudits from some big reviewers. However, of those collective descriptions of intelligent, controlled post-punk, I failed to grasp it all, and it seemed all a bit cheerless to me. Anarchic vocals emerged, but I was lacking an understanding of the cause, and the interactions with the crowd were, quite frankly, odd. The jury's still out for me. I also caught Koreless doing a live set, where he was experimenting with all these soundscapes for a good twenty minutes before I'd left the tent. I hadn't anticipated a lullaby via a sampler, so it wasn't over the moon. To my despair, MTI finally dropped when I was still in earshot of the tent. Nightmare.
Sunday saw the arrival of Northamptonshire-based band Temples, who were the lone protagonists of the psychedelic rock revival at this year's Best Kept Secret. They had some seriously hooky riffs, accompanied by circus type keys. They're a serious recommendation if Tame Impala's Lonerism gripped you last year – take them, The Byrds and Cream and you're not far off. Palma Violets were another of the British contingent, delivering a frenetic set. Whilst their technical proficiency was sometimes substituted for discord, their enthusiasm won the day. The bassist, in particular, had bundles of energy and simply looked like he belonged on a stage. He rounded the crowd up like vulnerable sheep, willing us to recreate a mosh pit that existed with a previous act. Watching Palma Violets brought us a little closer to a common British festival reality: bouncy, messy and anarchic. The drummer also ascended twenty feet in the air by climbing on all manner of stuff and might have been trying to resemble Jesus. Make of that what you will.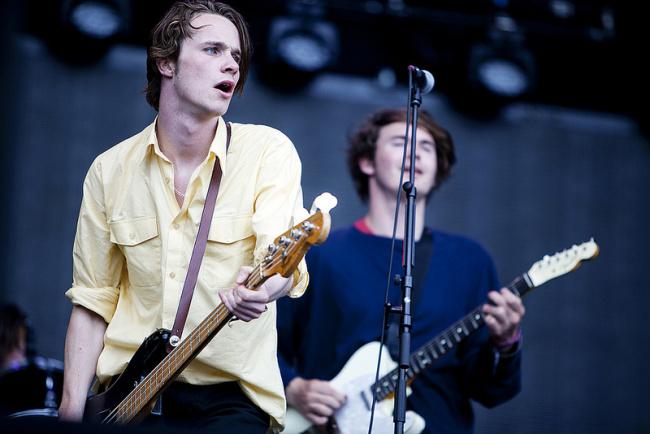 Penultimately, Portishead were exercising their trip hop vibes as dark was approaching. The Bristolian outift enjoyed a swelling tent of people, those close enough entranced by the animated, almost lucid nature of their visuals. Overall, they were probably the best electronic-based band of the festival. Finally, the curtains were drawn by Sigur Ros. It was a brilliant sonic performance; many songs began with sparce elements, but the emergence of brass and string sections culminated in greater emotive and dynamic intensity. Frontman Jónsi's haunting vocals reverberated, complemented by a vivid light show. Ultimately, Sigur Ros proved to be a fitting act to close off a memorable weekend.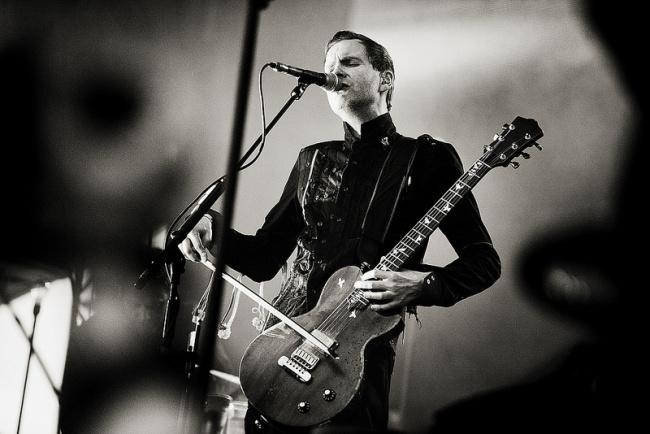 All in all, Best Kept Secret provided an eclectic blend of music and entertainment across three days. It looked as if most people had a blinder, and we all enjoyed the collective irony of hearing Beach Boys tunes whilst we were on an actual beach, being intensely rained upon. It was different beast to the flaming tents, piss on your mate type barbarism of some other events. Not that I'm suggesting that isn't also an enjoyable component of festival folklore for some, it's just something about a Dutch festival hidden inside a bit of beachy forest that gave it unique appeal. If this year of emergence is anything to go by, expect the voices of anticipation to become ever louder – BKS could be set to become one of the best of the smaller festivals to look out for.