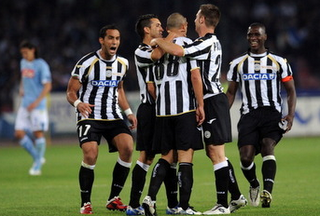 Number 88 (Gokhan Inler) scored a spectacular goal but
did not celebrate... Why?
Udinese has had a truly fantastic season in the Serie A. While their start was terrible, losing their first four games in the league, they eventually figured out how to play a wonderful and winning way. While there are players which make the team shine, their success must be attributed to their coach Francesco Guidolin. He has been able to motivate Udinese to reach what were thought to be unreachable heights, fifth in the Serie A table. This weekend they were able to defeat second placed Napoli 2-1 at the San Paolo Stadium in Naples. While Guidolin couldn't call on the services of his two star players, Antonio Di Natale and Alexis Sanchez, his team was undaunted with the task of facing a powerful Napoli side.
For Napoli, this match was supposed to be the chance for them to win and then chase after table-leaders AC Milan. But Udinese had other plans. Napoli played their usual style, stretching the field well and constantly feeding the attacking trio of Hamsik, Lavezzi and Cavani. Udinese were tight and compact, not letting anything leak through the well-drilled 3-5-1-1 formation.
But Napoli weren't as dangerous as expected. Cavani was missing big chances, Lavezzi was unable to keep the ball at his feet, and Hamsik was spraying inaccurate passes without aim. The rest of the Napoli team wasn't clicking, therefore allowing Udinese to slowly take over the game. On the other hand, Udinese were playing as a team. The lack of the brilliant Sanchez, and Serie A's top goalscorer Di Natale was no problem for Udinese, as players like Armero, Benatia, and Inler stepped up and performed very well.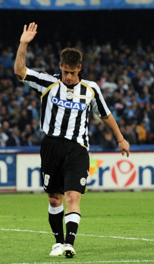 Denis apologizing to Napoli fans for scoring
In the second half, the San Paolo deflated when Inler scored a goal ten minutes in. It was a wonderful shot from about 25 meters, slightly deflected into the top right corner of Napoli's net. Strangely, Inler didn't celebrate at all, and the rumor that has been going around is that the Swiss scorer didn't celebrate because next season he'll be joining Napoli. After the goal, Udinese really began to press forward looking for a second goal.
It came in the 62st minute, when ex-Napoli player Denis controlled with his chest and volleyed to make it 2-0. While Denis looked ready to celebrate at first, he quickly went over to the crowd and
apologized for scoring
! Ridiculous if you ask me. If a player scores, he celebrates, no matter who he scores against. The goal wasn't the wake up call for this sleepy Napoli side, and Walter Mazzarri's side only began to press forward in the final minutes.
Mazzarri had put on Lucarelli and Mascara, making up a total of five forwards on the field for Napoli as they incompetently snooped around for a goal. In the 87th minute a golden opportunity came when Domizzi literally grabbed Lavezzi and threw him to the ground (along with a few punches) in some good old Italian defending. It resulted in Domizzi's expulsion and a penalty kick for Cavani to take. While Cavani's penalty was a low and accurate effort, Handanovic's massive frame parried with astounding grace. Napoli's perfect scoring opportunity was denied by Handanovic's brilliant save.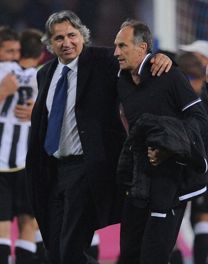 The humble Udinese coach Francesco
Guidolin (right) at the end of the match
Yet Napoli kept on pushing forward for a goal. It came when Cavani whiffed a volley in front of goal and his teammate Mascara smashed the ball into the back of the net himself. While the goal lifted the mood at the San Paolo, it didn't change the distribution of the three points which went to Udinese. Throughout the tense match there were a few too many scuffles between players, and a fight nearly broke out when Armero cheekily poked the ball from the penalty spot before Cavani was about to take the spot kick.
Because Napoli failed to win this match, AC Milan now have a six point lead at the top of the table with just five matches left in the Serie A season. While it looks doubtful that Napoli will manage to claw their way above AC Milan, what looks much more likely is Udinese's ascension into the top four. Francesco Guidolin's side is just a point behind fourth placed Lazio. The Serie A's battle for Champions League action could even see third placed Inter Milan kicked out of the top four if they don't start to improve results.