Cast: Anthony Perkins, Karl Malden, Norma Moore
Directed by: Robert Mulligan
Fear Strikes out is the directorial début of Robert Mulligan. It is a sport biography of Jimmy Piershall; this film is about the rise, fall and rise of the former American Baseball center fielder.
The film starts with Jimmy as a kid working on his slides for his baseball games, while his father [Karl Malden] helped him with his practice. His father decided that the one and only goal of Jimmy's life is to make it to the Boston Red Sox team. 10 minutes into the movie and we see a grown up Jimmy [Anthony Perkins] playing a baseball game in a small ground and with a little audience.
He was the best in the game in his small town of Waterbury, Connecticut. Scouts from Boston came down to watch him play, so as to sign him for Boston Red Sox trainings but even then, it was never good enough for his father.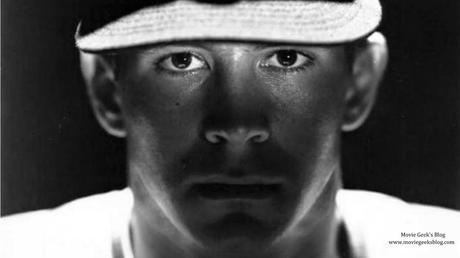 Not that he was a bad father, but he never had it easy. During the practice session in the first sequence of the movie, he was throwing the ball at little Jimmy with such an intensity that it was hurting Jimmy's hands even though he wore a glove. When every one of his teammates was out celebrating for a game's victory, Jimmy was not allowed to go as it would ruin his next morning's practice session. 
Once he got selected for training with the Boston Red Sox, he met his future wife, Mary [Norma Moore] and when he proposes her, he is confused and psyched by his own decision, because he knows his father will not appreciate it and make it look like a "mistake which will affect his game". His confusion and psych was shown in the hotel room scene when he is awaiting a call from Mary and gets angry at his neighbor because they were playing the radio too loud and there was a critical opinion on Piershall's game on the radio. In my interpretation, it was making him weak to stand by his decision to marry Mary.
The pressure John Piershall puts on his son Jimmy is a lesson for parents of this era, when the world has reached to greater heights of competitiveness. The relentless pressure by Jimmy's father affected his personality and pushed him on the verge of madness. 
Karl Malden as John Piershall, played the role of the obsessively driven father, who is not just working hard for Jim's Career but literally believes that it's always a shared dream. Jimmy usually tells "I did it", but John maintains the 'we' part. It is always a Father-Son team for him and that's why he is constantly pressuring him to improve, even when he actually needs to be acknowledged for the game he played.
Anthony Perkins have given a performance that might have prepared himself very well to play Norman Bates in the Hitchcock classic "Psycho" only 3 years later. He did some very intense scenes, that shown his capability to do dark characters. But the best performance of the film is by Karl Malden who equally shares not just the goals of Jimmy's Life but this film.
Movie Geek's Rating: ★★★½
-------------------------