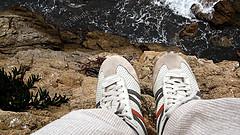 Image by epSos.de via Flickr
 It's uncertain to me when I heard the following question:
What would you attempt if you knew you could not fail?
I do remember that it stopped me in my tracks – I thought – what would I attempt? And if I really could not fail – what would I DO?
The choices are limitless and hence the challenge –
A better question might be – what do you want to do more than anything else?
Now – for me at least that's the hard part – all the things I want to do – all the places I want to see – all the experiences I want to have – am having, doing and going –
I believe this question was shared with me by a past client – telling me how much the question had affected her – and how she had asked herself this question daily and how it had helped her move through fear – impressive results –
I share it with you today – this Monday – the second day of a new month – to simply have it challenge you, inspire you, define you maybe –
What would you do if you knew you could not fail?
Would you quit your job? – Or maybe – scarier – would you do your job in new, bolder more confident ways?
Would you ask for more – life, love, adventure, money or experiences or things? And what would you do, think or experience if everyone said yes to you?
Are you able to accept that this can happen?
One of the most interesting things about being human is how often we let our own fears get in the way of our own success and happiness –
We have not because we ask not….
Frederick Smith (founder, president, and CEO of FedEx) said something worth remembering:
"Fear of failure must never be a reason not to try something."
Today – be bold, ask big, think well – and marvel that maybe, most probably – you will succeed – so go ahead – what will you do?
I would love to know – so comment here and let's help each other excel!
Blessings, Shawna
P.S. To follow the asking part – if your organization or one you know needs an outstanding speaker on the highly valuable topics of service, communication and advanced people skills – call me or give my name to those who would benefit –
There's also a couple of spots open for new coaching clients – so give me a call and let's talk about your goals, dreams and visions – why not take the step you desire today?
Thank you and remember – you create your day by the way you think. Make it magnificent!