10/04/2011 – by Vanessa Vargas
The New York Post reported that the FDNY hired its first transgender employee.  In such a masculine sector this was actually a fairly big accomplishment for Brooke, who prefers to maintain her privacy and did not wish to release her full name.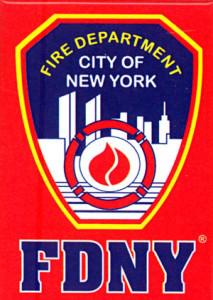 FDNY
When I first read the article headline I assumed the new addition to the FDNY was a female-to-male transgender.  I was actually very surprised to learn that it was the reverse.  I would imagine that male-to-female transgender people have a far more difficult time being accepted in such testosterone filled environments, whereas a female-to-male might just blend right in with the guys.
The following is an excerpt from the New York Post article written by GINGER ADAMS OTIS and ERIN CALABRESE:
"It's a tremendously courageous decision," said one fellow firefighter. "Hopefully everyone will be supportive."

She confirmed her transition to The Post last week.

"I am appreciative of the support that the FDNY has given me during this time in my life. However, it is my expressed wish that the details of my personal and professional life remain private," she said in a written statement.

Her family has a long history of firefighting, starting at least three generations ago with Brooke's grandfather, and continuing to her father, an FDNY officer who responded to the Twin Towers on 9/11.

The FDNY has an LGBT organization and some members are openly gay. But Brooke is the first known transgendered woman in the firefighting ranks.

In 2005 a city cop went public with his decision to become a woman.

Officer June Lo — formerly John Lo — said her Queens Transit Task Force had been "supportive and understanding."

A longtime FDNY member said the majority of firefighters will do the same for Brooke, although some Bravest might have a hard time dealing with her gender change. Some insensitive colleagues have taken to calling her "it," two department sources said.
Congrats to Brook and kudos to the New York Post!  I thought the article was well written and admired the writer's usage of the proper pronoun throughout.
Your opinion: Do you think Brooke will be accepted by her male colleagues?