heya everyone!
so the other day i was watching beauty crush's video about her favorite films 

and i decided that i thought it would be a cool idea to do a blog post on my favorite films! (PLUS i'm having a major blogging blockage - help me! i want to blog but i can't think of ideas!)




i'll put pictures of the films below, but i'll only talk about a few of them :)




i'm not a massive film junky but i do like to pop on a film every now and then, and these are a few of my favs!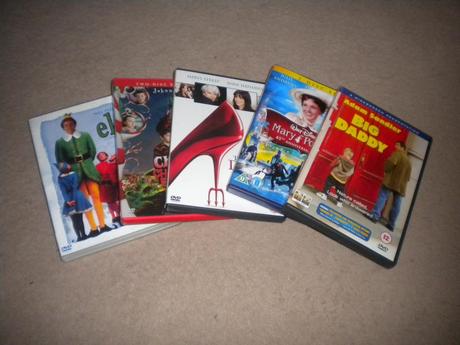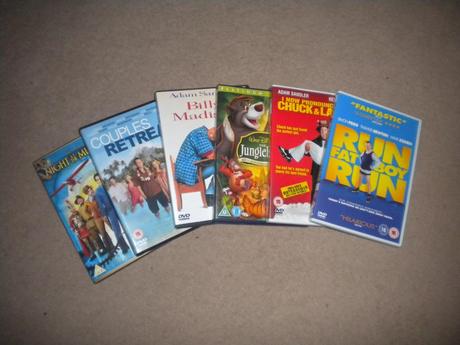 elf; charlie and the chocolate factory; the devil wears prada; mary poppins; big daddy; night at the museum 2; couples retreat; billy madison; jungle book; i now pronounce you chuck and larry;

run fat boy run




my top 4 films;

1. night at the museum 2 -

this seriously is my favorite film EVER. i could watch it all day - my friends and family know how obsessed with it i am. and the reason i prefer number 2 to number 1 is because of the fact that hank azaria (plays kahmunrah in this, whit in run fat boy run, david in friends) is in it and his character literally makes me cry of laughter. i love the whole cast actually, owen wilson, ben stiller etc. if you haven't seen this, you HAVE to.

2. the devil wears prada -

i think every girl has to watch this film. it's about the rough and tumble world of the fashion industry. about a high maintenence and difficult high end fashion magazine editor and her assistant, who knows absolutely nothing about fashion (to begin with.) it's got a very dry humor in it, which i love because i have a very dry sense of humor. it's so great! and the guy who plays anne hathaway's boyfriend is HOT. meryl streep is also in it who i love, and emily blunt.

3. elf -

OH MY GOODNESS who doesn't love this film? it's the ultimate christmas film about an human brought up in an elf world on an adventure to find his real dad in new york. so charming and happy, it makes me feel so good afterwards! and the quotes from this film are absolutely hilarious! (a personal favorite - 'buddy the elf, what's your favorite colour?)  you have to see this. and if you have, watch it again. it has will ferrel in it, and james caan, who has been in loads of things but i always remember him for his role in The Godfather, where he played Sonny Corleone, just a bit of a different role in elf ;D

4. run fat boy run -

i do love me a bit of british humour, and this has got to be my favorite british made film. it has simon pegg, thandie newton and hank azaria (he keeps popping up doesn't he!)  in it, and is about a man who is desperate to get back with his ex fiancee, who he left pregnant at the alter. after meeting her new boyfriend, who is hotshot american runner, he decides to do the london marathon to win back her heart. i must say this has got to be one of THE most funniest films i've seen!


other films i've seen lately which i love but aren't out on dvd yet are:

arthur (russell brand version); horrible bosses; inbetweeners movie; bridesmaids


if you have any reccomendations for films they'd be muchly appreciated! as you can probably tell, i like comedies and family films - easy watches basically! i don't like things i have to think too much about!

also, PLEEEASE request me something to blog about!


thanks for reading! maddie xx