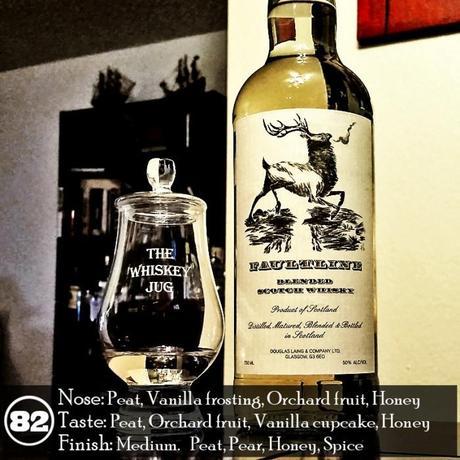 Faultline Blended Scotch is K&L's very own proprietary blended scotch they worked out with Douglas Laing & Co. This blend is unique in that it has a high quantity of malt (well over 50% from what I hear) that puts it way above the blended industry averages of 20-40%. This keeps the whisky from picking up any of those harsher grain alcohol notes you can find in things like Johnny Walker Red.
This K&L blend is a mix of "Island whiskies" (typically mean Islay & Skye), a Highland whisky and then finally some grain whisky. And speaking of Johnny Walker Red… let's chat for 2 seconds about value shall we? A typical 750ml of JWR will run you about $27 and tastes absolutely awful. This costs $25 and tastes good. Which begs the question, if a little shop in California can work with a blending house in Scotland put together a decent tasting blended whisky for $25, then what the hell is everyone else's excuse?
Faultline Blended Scotch Whisky – 2015 Review
Blender: Douglas Laing & Co.
Age: NAS
ABV: 50%
Price: $25
Natural color
EYE
White grape juice
NOSE
Peat, vanilla frosting, orchard fruit (pears and apples) with a touch of honey, yellow cake and cider spice. Comes across light and crisp and while it's doesn't have a whole lot of depth to it, what's there is really nice.
PALATE
Peat, orchard fruit, vanilla cupcake with vanilla frosting, honey and a touch of spice with a sweet malty undertone. Again, it's not wildly deep, but what shows up is pleasant and easy to sip on.
FINISH
Peat, pears, honey and spice fade out at a medium pace.
BALANCE, BODY & FEEL
There is a nice symmetry between the peat and sweet that I'm enjoying and it has a light smooth quality to it that makes it easy to drink.
OVERALL
The Faultline Blended Scotch isn't wildly complex, but there is something nice about it's light simplicity I enjoy. I've often mentioned "kick around drams" and this is a nice peaty version of that. $25 and it mixes well in cocktails like a Churchill or thrown into a glass filled with ice, club soda and lemon to make a long drink, but also nice enough to drink neat when what's in your glass isn't your main focus, like cleaning the apt or doing dishes. Basically it's just a nice simple yet flavorful whisky that's priced right. What's not to like about that?
SCORE: 82/100