Caution: Fathead® wall decals can reveal your hidden obsessions.
If you want to play the world's easiest game of Where's Waldo?, one even your weird Aunt Judy who thinks her Hummels are real children could win, come to my house and play "Where's Gordon?"  Our Labradoodle is the center of our world and odes to him fill the house.  That fact was never so clear to me than when I took a picture of the new 30″ x 40″ Fathead ® wall decal above our bed, only to realize that before I could take the photo, Gordon himself had jumped into the bed.
"Look!" I exclaimed, as if I'd just spotted a rare pygmy three-toed sloth saving a kitten from certain death. "Gordon is sleeping under Gordon!"
Mike dropped everything to come see.  If Mike and Usain Bolt had been at the 2012 Oylmpic 100 meter dash starting line, and a distressed Gordon sat on the finish line holding his paw in the air because he thought there was an acorn stuck in his pads (it fell out by then, but he won't move until its been checked), we would have a gold medal hanging in the living room right now.
Mike's eyes softened as he stared at the picture and nodded enthusiastically. "Good one!"
I was grinning at the Fathead ®  like the town idiot when I spotted the glass by my bed.
It's a Tervis Tumbler my mother gave us last Christmas with the same photo of Gordon in it.
Oh no.
We were one knitted sweater of Gordon wearing a Santa hat away from going from loving dog parents to crazy people.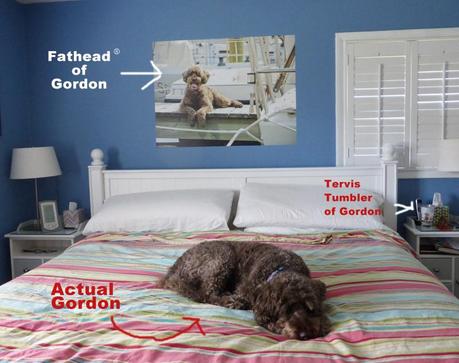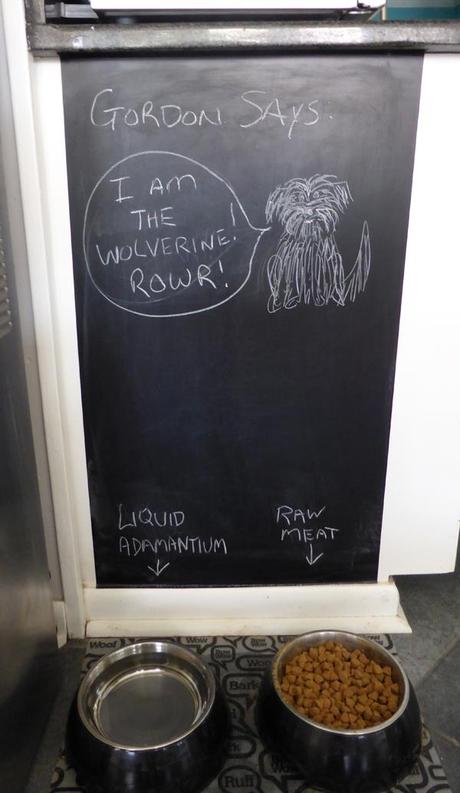 I'm sitting in the kitchen now, at 4:30 in the morning writing this blog. I'm up this early, because Gordon decided it would be a good time to have a poop and get his treat for bringing in the paper. When baby stirs, I jump. Plus, if I don't, he'll just lay on my chest and pant in my face until I do what he wants. To be fair, so does Mike.
Here in the kitchen there is a custom canvas of Gordon sitting in our backyard lily patch.  I'm drinking coffee from a Gordon mug I had handmade by an artist client. I'm wearing my Photoshopped t-shirt of Gordon with dragon wings. Above Gordon's bowl, is the chalkboard contact paper where I create funny drawings to entertain him during lunch.
Right now, he's Wolverine. He likes for me to keep things topical.
If these were all pictures of my kids, I'd just be a mom. Right?
So I'm not crazy… my kid just needs to be shaved down more often than some others.
Funny Note: This post was part of a Fathead ®  promotion I was offered through Canopi.com (I received my new Gordon shrine for free – but I wouldn't write nice things about them unless I really felt that way.). When I was sent the proof for my Fathead ®, they accidentally sent me a photo of  what appeared to be a nice little Inuit family. The wall graphic was the same giant size. There were four kids crammed into it. SO WHO IS THE CRAZY ONE NOW? Huh? I ask you this, Inuits with a giant picture of your family on the wall. Eh?
You think that's the only family photo those people have in the house? I THINK NOT.
Here's how another blogger used their Fathead ® .  And below is a little collage of how all the bloggers involved used theirs.  It really is pretty damn magical how you can peel Fathead ®  wall decals off and re-position them endlessly. I just have to hide the Raider's Fathead ®  from Mike. Luckily, the Raider's suck so he's not gungho at the moment.
Clearly, one person is obsessed with moody long horn steer. Another has well-documented mass murderer, Darth Vader, on their wall. Who's the sicko now?