Just as with a normal mountain bike, upgrades are part and parcel of owning a fat bike. Interestingly however, fat bike upgrades are quite different to a standard bike as fat bikes are intended more for fun than pure-performance.
Here are the Best Fat Bike Upgrades You Can Make
Tubeless Fat Bikes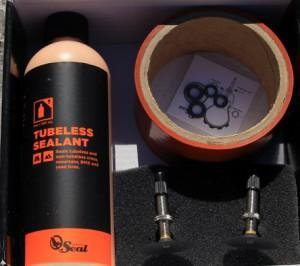 This makes a huge difference – Fat Bike Tubes can be extremely heavy, so going tubless could save you nearly a kilo in weight! The Schwalbe Fat Bike Tubes weigh 390g EACH that's a combined saving of 780g and these are considered to be lightweight tubes for fat bikes.
There are plenty of fat bike specific tubeless conversion kits out there that can help you make your bike much lighter without spending a small fortune. In addition to this, you get all the benefits of running tubeless such as lower pressures, lower rotational weight and less likely to get a puncture.
New Rims
A real kicker and definitely not something that's considered cheap by any means, but if you want to shed some weight on your fat bike then new rims are definitely the way to go. Now, if you're feeling particularly handy and don't really want to spend more money than you have to you could try to drill out your existing rims. Here's a handy video showing you exactly how to do that:
Alternatively, you could simply buy yourself some lightweight Fat Bike rims. There are plenty of options out there currently, with more and more being added to the market all the time. Do some research, find out about the different weight options and find something that matches your budget.
Fat Bike Fork
What matters to you most, weight or fun? Because if it's weight then a good upgrade to make would be the Carbon Fatty Fork, this shaves off half the weight of a typical On One Fatty fork making huge weight savings on your steed. What's more, this is a relatively inexpensive upgrade and can make long treks and climbing much more enjoyable for you.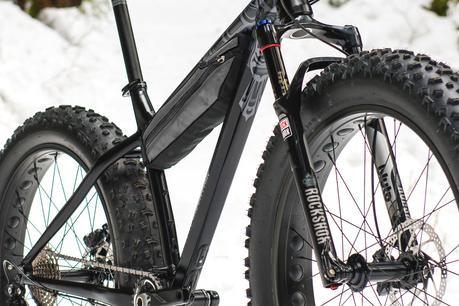 If fun is on the menu then Rockshox Bluto is more what you should be looking at. While the argument about whether you need suspension on a fat bike is a highly contested one, once you stick a Bluto on you're bike you will be converted. This can let you attack the trails more aggressively, which is an extremely surreal experience on a fatty.
Dropper Post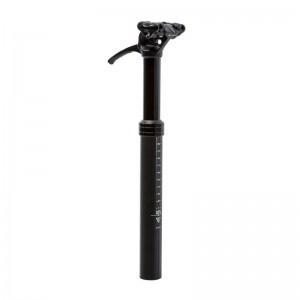 Dropper posts are quickly becoming a mountain bike essential and fat bikes are no different. If you do a lot of trail riding then a dropper post is something that you should seriously consider investing in. There is no need for a fat bike specific dropper post, so you could easily switch yours over from your other bike if you want to save some cash (and if its the same sized post).
You have a wealth of options open to you here, from the £30 Decathlon dropper post to the £300 Thompson dropper – this is really down to personal preference, seat tube size and budget. Don't be afraid to ask forums for their opinion, but remember that everyone has their favourites so take it all with a pinch of salt.
New Drive Chain
As with any bike, the drive chain will wear out eventually and that often leads to the question – replace or upgrade. Depending on your budget and what drive chain you previously had, we always suggest an upgrade wherever possible. A good drive chain will make general riding easier, with smoother, cleaner shifting combined with less weight and even more gears. While it isn't necessary to go about replacing cranks and the like, if you want to shave weight and have money to spend then you could get some huge weight savings here depending on what your existing crankset is.
Fat Bike Frame Bags
Using your fat bike for exploring? In that case you want to be able to carry as much stuff with you as you possibly can. You won't be able to carry all that on your back, so the obvious solution is fat bike frame bags. There are a lot of companies out there offering custom made frame bags, a quick Google search should be able to turn up a local supplier to you.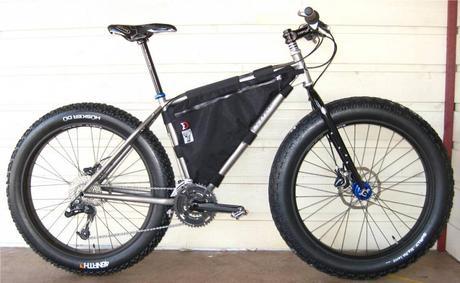 Don't want to go for a full frame bag? You can get some pretty awesome high-capacity saddle bags or rear racks as well to really maximize storage space without having to have anything on your back. This is ideal for bikepacking trips as you can easily strap a tent or sleeping bags onto this sort of fixture.
Brakes, Pedals & Tyres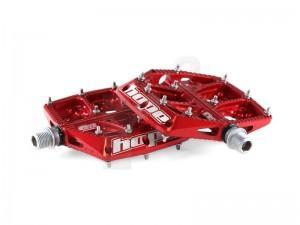 All of these are pretty common mountain bike upgrades, but again they can drastically improve the performance of your fat bike. If you were givens some rubbish, bog standard bike pedals with the bike then a set of grippy, wide platform flats or clipless pedals will make a huge difference.
Similarly, upgrades brakes with better modulation and a lot more bite will transform your bike from an unstoppable force to a flickable, controllable fun machine! Who'd have thought controlling your speed would mean more fun eh?
Tyres are a very individual choice and so it stands to reason that you may not get on with the stock choice of tyres that come on the bike. Again, you'll find that a huge range of fat bike tyres are hitting the market, making it much easier for you to find a combination that works perfectly for the terrain you ride on.
More?
Have you upgraded your fat bike? What did you change and why? Let us know in the comments below or on Twitter @GrindingGearsUK