In 2011 there was a leadership and mentoring conference in Novosibirsk for volunteers working with orphans and orphanages in Russia, Belarus and Ukraine. It was sponsored by Chick-Fil-A and New York Pizza (the local chain, not the American pizza chain).
Papa's John's, Dunkin' Donuts, Krispy Kreme, and a host of other North American fast food companies have set up shop across the former Soviet space, but it is curious as to why there are still no Chick-Fil-A franchises. Their unique system of small owner-operators, and Russia's centralized corruption, may have something to do with why they have not entered the market. In the meantime, Wendy's has picked up their buns and square patties, and returned home, saying that current conditions are just to "chili" for their operations in Russia.
There are a host of Western fast food eateries in Russia, Ukraine and other Eastern European states. Some, like McDonalds, Baskin Robbins, Stardogs (Nathan's), and Subway, have been here a long time. Even in the economic downturn, there remains a market for fast food.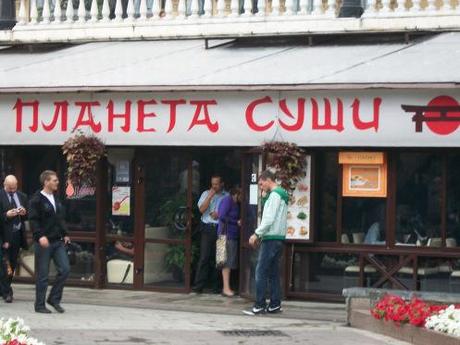 Planeta Sushi, just steps from Red Square, before the re-branding to "Planeta," which means planet/global.
Sushi is loved in this part of the world, but with reverse sanctions imposed by the Kremlin, the availability of the product, combined with inflation, has hit that fast food sector hard. Russia's largest restaurant chain, Rosinter, has begun to re-brand their 60+ "Planeta Sushi" restaurants in Moscow. The word "Sushi" is disappearing from the name as new signage and menus brand the restaurants simply as "Planeta." Today those kitchens serve "global cuisine," and the chain says that while a few sushi items remain, the uncertainty of product supply has forced them to expand the menu.
But do not count sushi as totally extinct, at least not yet. In Ufa, local "Sushi Express" menus still tout their sushi, but have added pizza to the menu.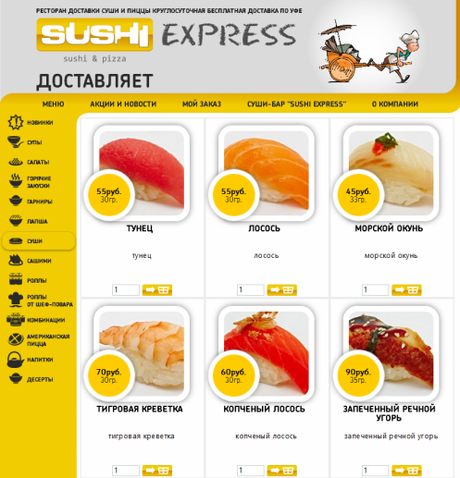 To stem the downward spiral of sales, Russian sushi chains have adopted some unique advertising strategies–like this advert which tugs on the emotions by combining love with dancing. Just watch:
So, how are sushi restaurants faring in places outside of Moscow? Sergei Baklykov of Real Russia seems to like this chain, сушишоп (Sushi Shop) in the Russian city of Ufa, his hometown. сушишоп is a newer chain, currently with 15 locations; eight locations are in the city of Tumen, three outlets in Saint Petersburg, and one in Moscow. The Moscow franchise is on Svobodniy prospekt, not far from a McDonald's cafe.
Interestingly, Sergei says that the two most popular sushi rolls have American names, the "Philadelphia" and the "Californication." What remains to be seen is whether demand for the product will outstrip the Kremlin's reverse sanctions. A Finnish firm whose fish exports into Russia have slowed because of the sanctions, recently began importing seafood via Chile.
About these ads