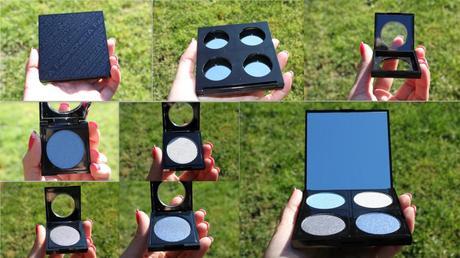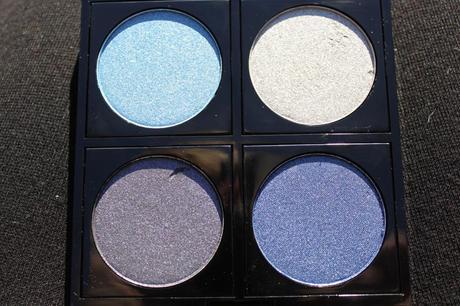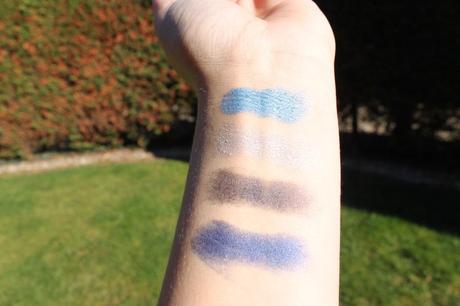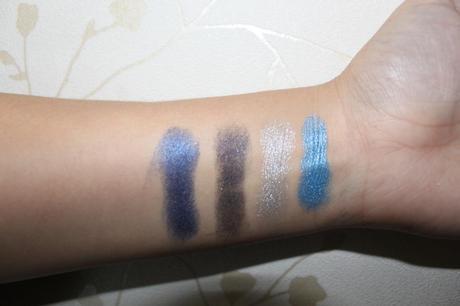 FashionistA Custom Palette in Black*
FashionistA Mono Eyeshadow in Blue Eyes*, Silver Lining*, Midnight Blue*, Deep Ocean*
FashionistA is a relatively new brand, sold exclusively in Superdrug stores and online. I haven't tried anything from their range apart from this custom palette, which I think is a fantastic idea. I often get put off buying eye shadow palettes as there is usually only a few colours I know I'll use or like, and once I've used them I often give the rest to my four year old niece so she can make herself look like something that resembles Coco The Clown.
I love the fact that I can choose what four colours I really love and pop them in my palette (which also comes in red FYI!) My custom palette was ready made with the four shades above, I had the choice of this or a blush palette which as I wear blush everyday, would have let me stay in my comfort zone. But oh no, the make-up artist Katie (great name btw!) told me I was really suit the smokey eyed blue look seen all over the catwalks at Rodarte, but in reality I'd probably look more like Pat Butcher circa '99. She showed me how to apply the colours to look smouldering sexy rather than punched-in-the-eye, and I was really convinced!
The eyeshadows themselves are really pigmented, and very finely milled, which means, depending on what you are using to apply them with, you could end up with excess product in places you don't want, so I would suggest using an eyeshadow brush, and blowing off the excess on the brush to avoid this from happening.
After I swatched these eyeshadows, I went and jumped in the bath, where I have a habit of just, literally lying there, doing nothing, for like half hour, and they didn't budge which showed me they have staying power, then with one light rub of my flannel they came off, which is fantastic, as there is nothing worse then spending 20 minutes removing your eye make-up when you just want to get into bed.
I've worn some of these colours on four separate occasions now since receiving this palette, and I'm glad I stepped out of my comfort box.
FashionistA Custom Palette retail for £5 and the Mono Eyeshadows retail at £4 each, Superdrug currently have a 3 for 2 offer on them, so get them while you can!
How you used any FashionistA products? Got your eye on any of them? Let me know!
"believe in yourself"