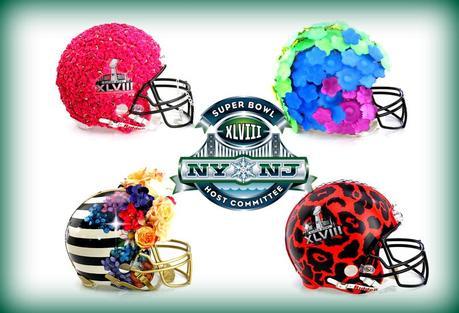 Welcome to my kind of fantasy football. No squads, coaches or QBs to select, just the most fabulous NFL helmets you have ever seen! To coincide with Sunday's Superbowl in New Jersey, The Council of Fashion Designers of America have teamed up with Bloomingdales for some high fashion touchdown fun. And it's all for charity. They have asked 48 huge names in fashion, from the cutting edge to the established, to create their own vision of the iconic NFL helmet. The NFL helmets will then be auctioned off to the highest bidder of course. Anyone can submit a bid, so pick your favorite and head over to Designer Playbook to place your bids. The bidding is live until February 4th. The list of designers is a veritable of who's who in fashion. Designers like Cynthia Rowley, Dennis Basso and Marchesa have all created couture NFL helmets but I picked these 8 as my favourites: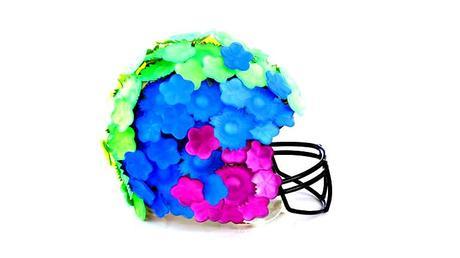 ALEXIS BITTAR
Alexis Bittar is a jewelry designer from NYC and famous for his vintage inspired statement pieces. I especially love his rings. He has created jewelry for such famous designer collections as Thierry Mugler and Jason Wu. He has been chosen as 2014 Brand of the Year by Accessories Council of Excellence. Neon flowers make his NFL helmet almost look like a glamorous swimming cap!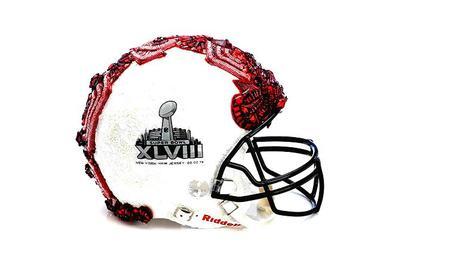 If you follow red carpet fashion, you know exactly who Badgley Mischka are. Mark Badgley and James Mischka create glamorous, delicate and ultra feminine evening gowns and you can see them on every awards show. Did you see Kelly Osbourne wearing this glam-goth Badgley Mischka gown in this year's Grammy awards? The red rhinestones in the middle of the helmet look like a detail from a Badgley Mischka evening gown.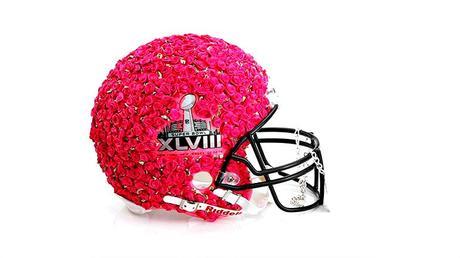 BETSEY JOHNSON
Betsey Johnson is a fashion rebel and that's why I love her. Fiercely creative, fiercely romantic, fiercely feminine and fiercely eccentric. And her jewelry line is to die for. Colourful, sparkly and whimsical and I would like to buy it all. I don't know if the NFL have ever considered pink roses for their helmets, but this pink rose design is adorable.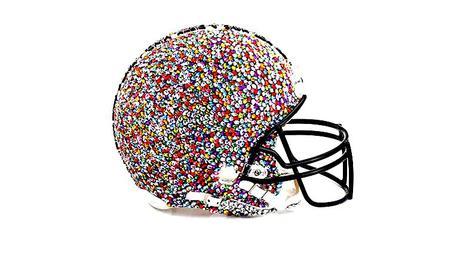 The creative genius behind Alice and Olivia is Stacey Bendet, a New York native who designed such a fabulous pair of bell bottoms to herself she got noticed on the street by designer Lisa Kline who ordered twenty pairs of the trousers on the spot from her. Thus Alice and Olivia was born. Since then Alice + Olivia has grown to a world-wide fashion brand. Stacey Bendet has also designed a collection of shoes for Payless Shoes in America. I am lusting after these Super Flared Wide Leg floral trousers for the summer. The helmet is less NFL and more Alice + Olivia. Modern, fresh and pretty.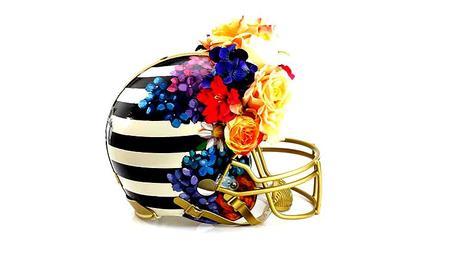 Nicole Miller is one of the giants of fashion, her first shop opened in 1986 and she is still going strong. Plunging necklines and beautifully draped dresses that hug the curves are her trademark designs. She trained in Paris so all her designs have an air of sophistication about them. But she has not stopped at fashion design but has branched out to home, accessories and bridal designs as well. This is my favorite NFL helmet of them all. Gold, flowers and geometric stripes… very 80s combination. That was my decade. Love it.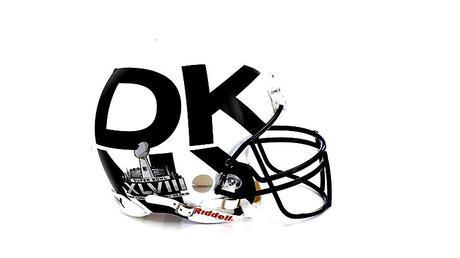 How I would describe DKNY is casual luxury. Designer Donna Karan has always been one of my favourites with her "no-frills" designs. Her clothes have been described as modern clothes for modern people. Truly wearable high fashion. She has a whole fashion empire now with beauty and home products included in the Donna Karan family. The DKNY label was inspired by her daughter as a younger line and more affordable. And that's what the helmet design looks like. Young and fresh. Y'know… something that would look great with jeans.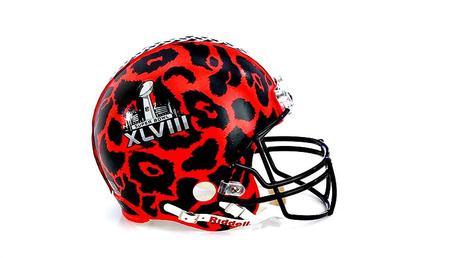 Diane  von Furstenberg's  legacy will always be the iconic wrap dress. A truly modern classic as timeless today as it was in the 1970s when she launched it in 1974. She has never been afraid of bold patterns, and her new Pop Wrap dresses are fab in multicoloured flowers and patterns. And I especially adore the Pop Wrap collection of handbags. Diane also holds the important position of President of the Council of Fashion Designers of America, so no one is more qualified re-invent the classic NFL Helmet. And she has done it with eye-catching animal pattern and a monochrome geometric strip. Genius.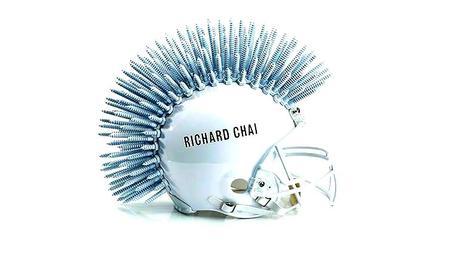 RICHARD CHAI
Richard Chai is a young designer who has already worked at Marc Jacobs, Lanvin and DKNY and has recently branched out on his own. I love his industrial punk NFL helmet. It looks like it should be in the wardrobe for "We Will Rock You" musical or some futuristic action movie. His designs have been called architectural in style. Classic tailoring yet very modern. Could not agree more. Just look at the helmet.
All images: Fashion Touchdown.
The post Fashion Touchdown: NFL helmets get a couture makeover for Superbowl appeared first on