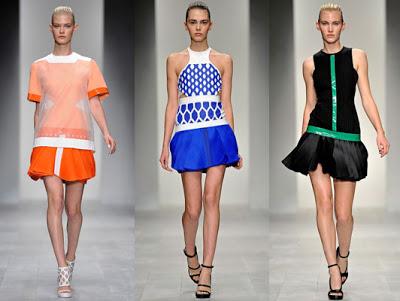 Accentuate Your Style
Alongside bold reds, pinks and prints there has been an upsurge of interest in rich navy blues and luxurious black, seen primarily in jumpers, cardigans and accent pieces like socks or scarves. Women's golfing clothing has clearly been taking a leaf out of couture's own book, because the very same colours have already been marked as hot for SS 2013.
Couture Inspiration
Designers such as Nasir Mazhar and Roksanda Ilincic made great use of both red and blue in their

2013 collections

, whilst Emilio De La Morena had clearly taken inspiration from the golfing greens themselves, as her collection featured classic block patterns and heritage colours as well as brassy reds, loud oranges and clean cut whites.
Looking Great on the Green
Women's

golf clothing

hasn't always been so stylish, so ladies everywhere must be breathing a sigh of relief that sport has finally caught up with style when it comes to women's golfing attire. Although top designers have been creating women's golfing clothing for years – such as Ralph Lauren's ubiquitous polo shirts – it finally seems that women have an affordable way to both look and play their best.


----------------------------------------------------------