Fashion Haul:
To The Moon & Back
To say that I had a touch of writer's block would perhaps be the understatement of the year. This seems to be the norm after Fashion Month and it doesn't make me feel particularly happy or professional, so in an attempt to inspire myself I took to the internet and had a little browse around this weeks headlining news. One such headline that intrigued me, was that a man named Felix Baumgartner jumped from space and risked his life for both science and his need for a blood-pumping adrenaline rush. Can't say I would have risked my blood boiling and lungs exploding for an adrenaline rush - I get my kicks from shopping and grabbing a good deal - but each to their own as they say.
Anyway, this headline later inspired me when I was having a little look on ASOS. I came across the t-shirt, leather trousers and bracelets and decided to add the Ash wedge sneakers in as I already own those and they will be my choice of footwear when my outfit arrives in the post later this week.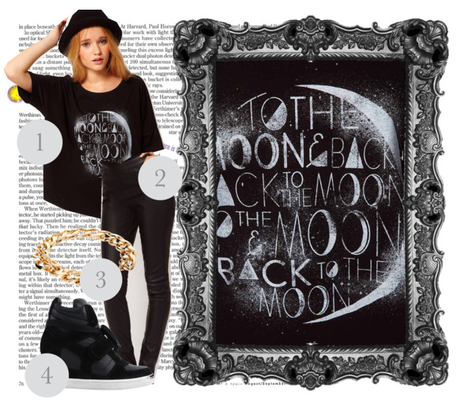 1. To The Moon & Back T-shirt - ASOS - £16
2. Skinny Leather Look Trousers - ASOS - £30
3. 2 Pack Gold Chain Bracelets - ASOS - £8
4. Nappa & Suede Wedge Sneakers - Ash @ Flannels Fashion - £185
You can click on the links underneath the image if you, like me, are in need of a little retail therapy. 
It seems that I go through little phases of wanting print, color and texture in my wardrobe and then flips to the opposite side of things where I want nothing more than to dress in an entirely black ensemble. Maybe it's because Halloween is just around the corner and I'm starting to feel more in touch with my inner goth. Who knows. Hmm, perhaps a Halloween themed post is next on the cards...
Photo Credit: Images sourced from ASOS and put together on Polyvore - Follow me there by searching 'vitadimoda'