Latest Fashion Haul:


Inspired by Elin Kling

In the past you may have heard (or rather read) me saying that I didn't really have a style icon, or person that I found style advice or inspiration from. Well, we have an update: that has now changed and my official style icon is Elin Kling. I have always liked her style and cool, edgy aesthetic, but have only recently found myself wanting to buy a lot of the things she wears - not 

necessarily

 piece for piece, but something inspired by what she puts together. Whether it be at NYFW, running 

errands

 around the city, or just out in the public eye, Elin always looks amazing and insanely stylish. I follow her on Twitter and just this weekend decided to read a few of her blog entries and search her style on Google: I think I looked at two or three shots of her and decided that it was time for a little online retail therapy, so let me show you what I bought!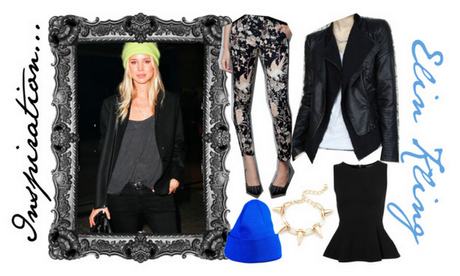 The above image shows Elin at NYFW in February of this year in an all-black ensemble with a neon green Acne beanie. This particular look embodies about 90% of my outfit choices on a regular day: all black with an accessory that breaks the outfit up and makes it pop. Now, like I said I don't want to take her style and copy it 100% - I mean, everyone needs inspiration, but you have to keep your own personality -so I made some tweaks here and there and made it my own.




The

oriental print trousers

are from

Zara

, leather jacket,

beanie

and

stud chain bracelet

from various sellers on eBay and the

peplum top

is from

Topshop

. All that's left to buy now are a pair of studded flats and some ankle boots, but I'm yet to find a pair that I've fallen in love with. The reason I chose blue for the beanie was because I have dark hair and blue eyes, so the royal blue is going to complement my skin tone and eyes better than the green would. I chose a printed trouser purely because I needed to buy a new pair for Fall and I think the printed trouser with black top and jacket still has the same edgy, cool aesthetic as an all-black ensemble does. The peplum top is going to prove itself a basic staple this season with the trend following in from SS'12, so even if I don't 

necessarily

 wear it with the printed trousers, it's going to lend itself to the majority of my skirts, or even a pair of leather leggings. Oh, and i

f I want to have a more laid back look, all I have to do is pair the trousers with one of my many black tank tops - this is something that I'll probably do more often than not actually.

 The look as a whole came in at just over £80, so I think I got myself a bargain. I can't wait until it all arrives in the post!

You can read Elin's fashion blog Style By Kling here, or follow her on Twitter here. What do you think of Elin Kling's style? Would you wear anything shown above?