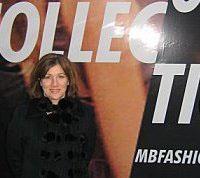 A few years ago at Fashion Week in NYC.
First, since I'm following my readers' lead–they seemed to like the MOM FASHION post–and will feature fashion on Fridays, I should tell you that I'm somewhat credentialed to talk about this topic. Several years ago, before I became a full-time faculty member at Stevenson University, and while I was staying home with the kids when they were little, I became a certified fashion consultant. It was a great part-time job, and I did that along with teaching an adjunct course or two at Stevenson. My job was to help women find their sense of style. It was fun; I enjoyed it. And, thanks to my friend Joann Butler, I was able to partake of New York's Fashion Week a couple of times. I even went backstage at several of the fashion shows and got an insider's view. What fun we had! However, when I had the opportunity to become a full-time business communication professor, something I'd wanted to do for years, I couldn't pass it up. So although I stopped my little side business of fashion consulting, it still remains one of my passions, which is why I thought I'd share some of my fashion thoughts and knowledge here for fun.
Today's Topic: Lace
I've noticed that a big trend right now in magazines is lace. Anthropologie, one of my favorite stores, calls it "summer lace." I looked in my own closet and was thankful I have some summer lace. I have a pink lace skirt, two black lace dresses, and a couple of new tops that have lace at the neckline.
What I love about lace is the romanticism it brings to a lady. Carrie Bradshaw, the character from "Sex and the City" who dressed the most romantically, was often found in lace. It's feminine and fresh, and it doesn't have to be stodgy or old-fashioned. It can look fresh and sweet, like the looks I've posted below from Anthropologie. If you're interested in more information on any of the looks I posted from the store, just click the image.
So, if you venture out to the mall, seek something out that's got a little lace. The best part is, you can dress it up or dress it down. Wear the lace top with jeans, or wear the skirt with pumps, a white tee, and heels, or opt to be more casual in snappy flip-flops. As for the dress, wear it with chunky jewelry and a nice pair of heels and look fabulous.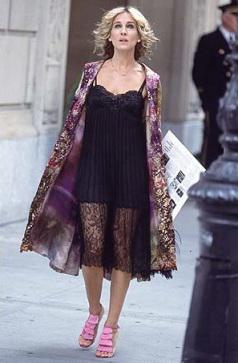 The Ultimate Romantic Dresser: Carrie Bradshaw from "Sex and the City"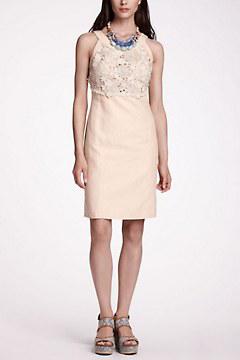 Dress: Anthropologie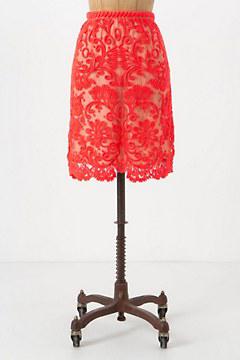 Skirt: Anthropologie
Top: Anthropologie