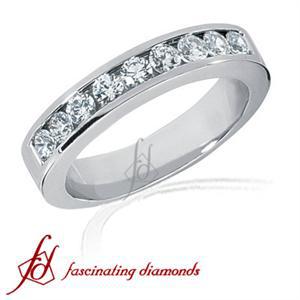 Many brides-to-be have already planned everything for their wedding, even before meeting their Prince Charming. But not everyone is so lucky! There are several would-be-brides who, though have met their guy, but are totally clueless about the entire wedding preparation, even the most crucial aspect – the wedding shopping. These brides have a very vague idea on what to shop for, from where to shop and what all has to be considered while shopping for wedding. If you feel, you belong to this lot then cheer up as Fascinating Diamonds have come to your rescue with a helpful wedding shopping guide, aiding you to shop the best for your wedding, wisely.
Wedding Bands
The most vital element of your wedding is a perfect pair of wedding band. As a wedding band signifies the eternal love and commitment shared by you and your partner, it must be as unique as your pair. When shopping for wedding bands first set aside a budget and try to shop within the set budget. Once the budget has been finalized, then you need to decide on the metal you'll prefer for your wedding bands. You have a range of choice ranging from silver, gold, and platinum to titanium or palladium.
Silver is the most inexpensive metal in the entire precious metals choices, but is the softest and easily malleable material. Gold is more expensive and durable than silver and is available in various shades with yellow, white and rose gold being the most popular. Titanium and platinum is the most expensive and durable metal among the all the available options.
Once you determine the metal to be used in the wedding band, you need to plan the kind of gemstone you want to include. Precious gemstones come in several varieties like Loose Diamonds, Sapphire, Ruby, and Emerald etc. Even the ring setting is very vital while mounting the rock on the wedding band. Further to be considered is the size, design and style of the wedding band to create a unique set of wedding bands.
Wedding Gown
One of the main elements of the wedding, without which a bride can't do, is the 'wedding gown'. Before venturing out for wedding gown shopping, it's advisable to set a maximum amount to avoid overspending. Wedding Gowns can be found from bridal stores, designer shops to online stores. It is your sole decision to decide upon the shop, before picking your wedding gown considering all the pros and cons each store holds.
It is advisable to opt for wedding gowns that complements your figure and is comfortable too. In terms of colour, the traditional options are white, off-white or crème. But you can also go for non-traditional colours like pink, red, lavender or blue. Also select accessories and embellishments that enhance the beauty of your wedding gown.
Wedding Flowers
The wedding venue's beautification is yet another important factor to be taken care of to contribute to the successful accomplishment of the wedding. While shopping for the event, make a a to-buy list with the priority to the types of flowers and decoration required for the wedding and reception venue, table centrepieces, etc. Always go for flowers and decorations that signify a beautiful meaning along with being a perfect complement to the wedding theme's style and design incorporated for your wedding.
Wedding Inventory
Draft a checklist of all the wedding supplies required for the event, to avoid forgetting anything. Few very significant supplies required for the wedding are: Invitations, Guest Book, Guest Favours, Wedding Cake, etc. And also you need to take care of few other services like booking a good wedding photographer and videographer, the wedding band, caterers etc. All these services can be availed either personally visiting the service providers. For the really busy brides, these hassles can be avoided as many professionals provide a detailed online store, from where you can easily select your service providers according to your preferences and budget, within the comfort of your home.
It is essential to be very smart and sharp while shopping for your wedding. Always plan well, decide upon the budget and shop accordingly to warranty an affordable yet very pleasant wedding. Be smart and enjoy every minute of your wedding from shopping to honeymoon. Have Fun!!!