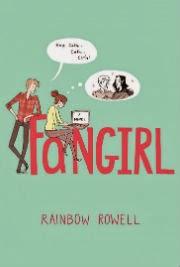 Cath is a Simon Snow fan.
Okay, the whole world is a Simon Snow fan . . .
But for Cath, being a fan is her life — and she's really good at it. She and her twin sister, Wren, ensconced themselves in the Simon Snow series when they were just kids; it's what got them through their mother leaving.
Reading. Rereading. Hanging out in Simon Snow forums, writing Simon Snow fan fiction, dressing up like the characters for every movie premiere.
Cath's sister has mostly grown away from fandom, but Cath can't let go. She doesn't want to.
Now that they're going to college, Wren has told Cath she doesn't want to be roommates. Cath is on her own, completely outside of her comfort zone. She's got a surly roommate with a charming, always-around boyfriend, a fiction-writing professor who thinks fan fiction is the end of the civilized world, a handsome classmate who only wants to talk about words . . . And she can't stop worrying about her dad, who's loving and fragile and has never really been alone.
For Cath, the question is: Can she do this?
Can she make it without Wren holding her hand? Is she ready to start living her own life? Writing her own stories?
And does she even want to move on if it means leaving Simon Snow behind? - Goodreads description
------
I've got an admission to make. I've been trying to write this review since the Read-A-Thon... two weeks ago.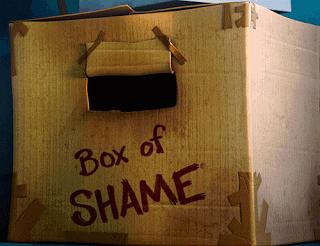 *Hangs head* I'm disgusting. Don't even look at me.


It's that old thing where if I really love a book - or an author - writing the review is a gut-wrenching, anxiety-inducing fiasco. No matter what I write, it just doesn't express what I want to say. Then I get frustrated, give up and eat a cookie. Then I come back to it, try to fix it, make it worse, give up, and drink a beer. This cycle continues until I eventually either publish whatever I've got in exasperation or a stroke of genius hits. I'm going with the former, so bear with me.
In this case, my sense of being an inadequate reviewer is because Rainbow Rowell's writing deserves more eloquence than I seem to be able to muster. She has a unique talent, even amongst writers. She's able to take something I'd normally have this reaction to: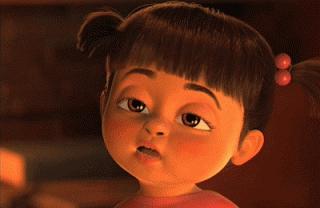 You expect me to be excited about this?
And totally draw me into the story, to the point where my house could probably be on fire and I wouldn't notice until the book caught flame. She did it for a social misfit in Eleanor & Park and for FanFic (fan fiction) in Fangirl (and for corporate email monitoring in Attachments, but I haven't read it yet because I'm rationing my Rowell). If her next book was about a garbage collector or a potato, I'd still want to be the first to get my hands on a copy.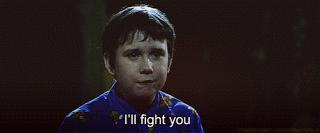 Seriously. Don't get in my way.


Cath herself is a character that I can not only relate to, but root for. Her family is appropriately complicated, but her love for both her twin sister, Wren, and father is beautifully sincere. Despite the betrayal of her mother leaving them at a young age, she is able to love, and to do so with all of her heart, even as she knows it could break her.
Rowell has created a wonderful cast of characters in this book. As I read I couldn't help but notice some correlations between the characters in Fangirl and the '90s TV show, Felicity. Cath bears some resemblance to the inexperienced, slightly naive, shy Felicity, while her roommate Reagan reminds me of the aggressive, worldly, spunky Megan. Which is great, because Megan was my favorite character - tough on the outside, but with a soft heart. Fortunately Cath isn't too much like Felicity, other than being inexperienced and overwhelmed by college life, which is good because Felicity annoyed me. Cath... she's sweet. She makes me want to protect her. Which is the same reaction Reagan had, as she took her under her wing saying, "[Y]ou're so helpless sometimes. It's like watching a kitten with its head trapped in a Kleenex box."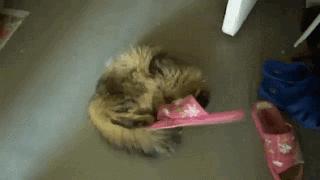 Getitoff getitoff getitoff!


There's really not much I can criticize about this book, except a few questionable fashion choices (notably a paisley scarf) and a hair too much discussion of Levi's hair (see what I did there?). Ridiculously minor points. Everything that matters? Perfection.
It's hard to believe that this is only Rowell's third book. She writes with an attention to detail and insight that is impressive. Like Eleanor & Park, I finished this book in a day (this time because it was my Read-A-Thon selection), and I think the intensive immersion augmented my emotional response to her writing.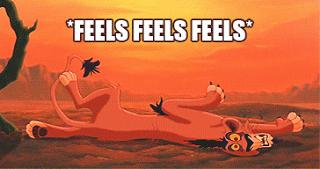 I just... I can't even.... *hides under the bed*


Oh, the book hangover. Both times, it took a couple of days for me to return to normal as I slowly returned to reality. If you're a fan of E&P, you'll find a lot of the same subtlety in Fangirl - much more than you'd expect from the cover or title. If you haven't read any of Rowell's writing before and aren't sure whether a book called Fangirl is really your thing because you like "serious" writing, let me tell you that to judge this book by its title would be a mistake that would rob you of a great experience.
Want more Rowell? Find her on Twitter: @rainbowrowell
------
Book Title: Fangirl
Author: Rainbow Rowell
Edition: Hardback
Published by: St. Martin's Griffin
Released: September 10, 2013
Genre: Fiction, Young Adult, Twins, Fanfic, College, Writing
Pages: 434
Date Read: October 12, 2013
Rating: 9/10