Surprise, surprise, I'm back with another fresh batch of fancy yellow engagement ring eye candy! We picked up a whole bunch of loose fancy yellow cushion cut diamonds, and had some fun mounting them in totally different styles – with the exception of the first two. They're twinsies. Albeit with a  major budget difference. But I'll stop chatting so we can all get to staring at this Fancy Yellow cushion cut engagement ring eye candy.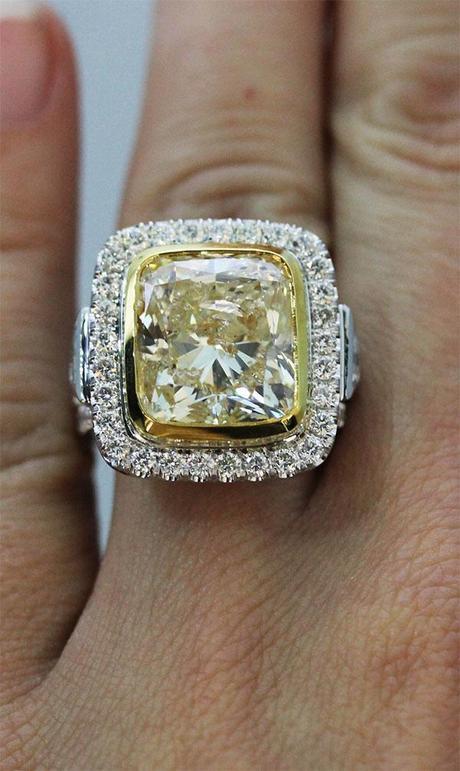 First up is this huge 10.67 carat fancy yellow diamond. It's light fancy, but warmed up nicely by a yellow gold setting. The clarity is I2-I3, but you won't have long to look for inclusions before you're nearly blinded by the halo of accent diamonds. 2.51 carats of white round brilliants frame the cushion cut and extend down the triple split shank mounting. This ring has major impact.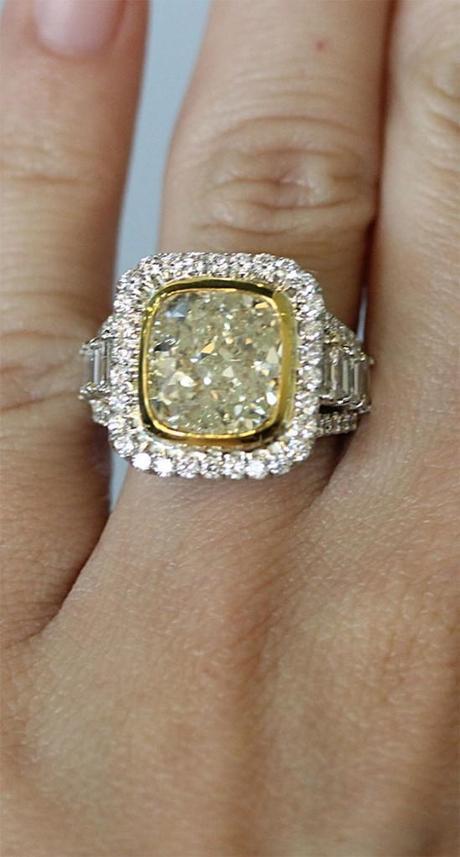 Its slightly smaller lookalike also makes a major statement, but at half the price. A 5.62 carat light fancy yellow cushion cut center stone has a crushed ice look with its SI2 clarity. The halo of white diamonds makes another appearance, as does the triple split shank setting. But check out the center shank – all baguettes. All the white diamonds, round brilliant and baguette alike, add an additional 2 ctw of diamond weight to this two tone 18kt gold mounting.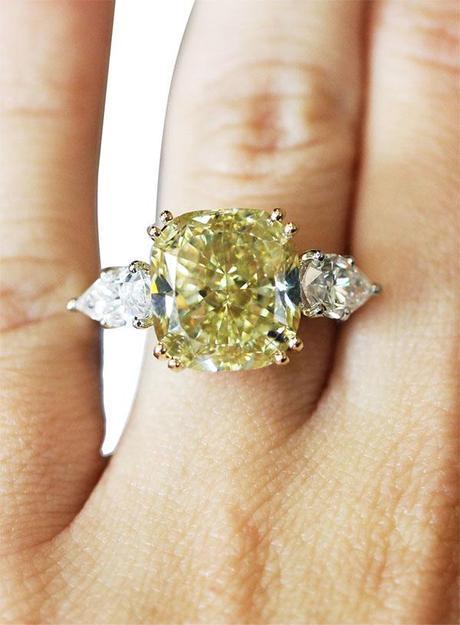 This beauty is quickly becoming a store favorite. It's definitely a personal favorite. A bright, sunny, lemon yellow cushion cut is the centerpiece, again at over 10 carats (10.10 to be precise). It too boasts an SI2 clarity grade, but in a much simpler setting. All it needs are yellow gold prongs, a platinum shank, and an assist from two pear shaped white diamond side stones, weighing a total of 1.5ctw and showing off G/H color and VS clarity grades.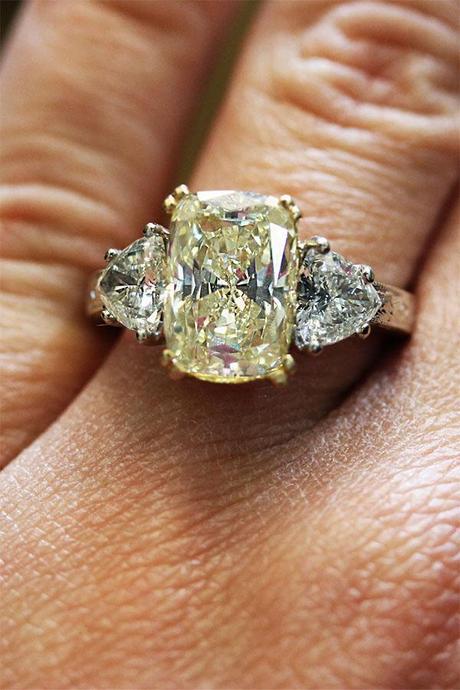 Last but certainly not least (although it is the smallest) we have a stunning 4.45ct light fancy yellow. Now when I say not least – though it is the smallest – this ring's beauty holds its own next to any of the others. This is like the "real life" version of any of the gigantic rings above. The center stone is a stunning VVS1 clarity, and the side stones are rounded trillions – a slightly unusual pairing for a cushion cut. But I love how the trillions have convex sides to mimic the soft curves of the cushion cut, and those crisp points add just enough interest. The band, though you can't see it in this picture (check out the listing by clicking not he pic above) is engraved with the loveliest organic design. This ring is seriously stunning.