Anton Bruckner discovered near Bruckner Boulevard.
by
Paul J. Pelkonen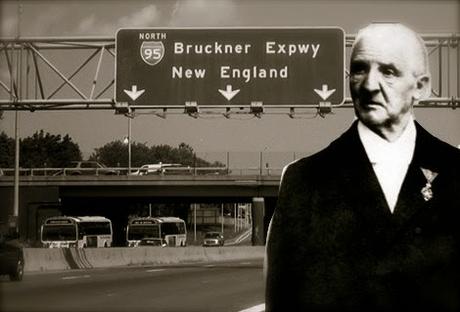 Out on the Boulevard: composer Anton Bruckner.
A small elderly man that has been missing for a month in the South Bronx has been identified as award-winning composer Anton Bruckner. Dr. Bruckner had arrived in New York on a cultural mission with the Vienna Philharmonic. He had disappeared at the beginning of March.
According to police sources, the composer was found "just sitting and sketching music" near a gas station off Bruckner Boulevard in the South Bronx. He was reportedly marveling that somebody in America had chosen to name a street after him.
"When we found him" Officer Gary Wallis of the 41st Precinct said, "he was sitting at the side of the Bruckner Interchange, scribbling music in a big notebook. My partner and I didn't realize who he was at the time."
Dr. Bruckner is one of the most famous composers of the 19th century, having written eleven symphonies, three masses and a cantata
Helgoland
. He also taught counterpoint at the Vienna Conservatory. He currently lives in a lodge on the grounds of the Schönbrunn Palace in Vienna, where he receives a small yearly stipend from the Emperor of Austria.
His brief visit to the Bronx was originally to visit the music department at Fordham University and play improvisations on the pipe organ at the University Church on the Rose Hill campus. Following the recital, he was invited to hit the hanging kitchen gong at the fabled off-campus eatery Pugsley's Pizza.
"I was in town to hear the Philharmoniker play music by that Brahms," Dr. Bruckner said. "I had a slice of that delicious
gebackenes Brot mit Käse und Tomaten
that they serve there and just got a little confused," he said with help from a translator. "I was thinking re-revising the scores for my Tenth, Eleventh and Twelfth Symphony and I wandered away from the campus through the streets."
"I also wanted to see Bruckner Boulevard," he admitted. "I had heard that the New Yorkers had named some streets after me. I had no idea that my fame had spread to America. That said the streets were very dirty and crowded with many automobiles and people yelling at each other."
"Like Antonin Dvorak, I always wanted to see this country" he added before sinking his teeth into a large meatball calzone. In between bites he explained that he's been living in the pizzeria for the last month and returning daily to the streets of the Bronx to acquire symphonic inspiration.
Bruckner Boulevard, the Bruckner Interchange and the Bruckner Expressway are among the heaviest trafficked roads in New York City, connecting Manhattan to points north and east in New England. They are in fact named after former borough president Harry Bruckner and have very little to do with the famous Austrian composers.