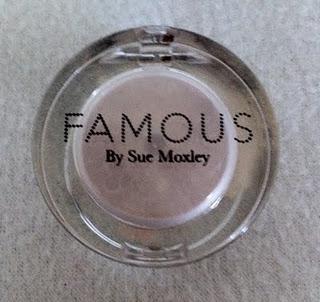 Sue Moxley Shimmer Eye Dust
Never Too Broke to Be Beautiful is about affordable and easy to apply makeup but from time to time I like to branch out, throw on my glad rags and go for glamour over convenience. Sue Moxley's Shimmer Eye Dust is the perfect accessory for a fun night on the town!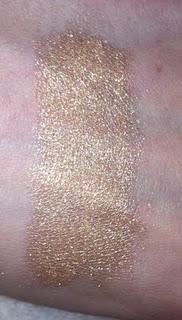 Famous by Sue Moxley
Shimmer Eye Dust swatch
Gold Leaf 
 Unlike a lot of products on the market Sue Moxley's Shimmer Eye Dust actually lives up to its name; it's an eye dust that most definitely shimmers! Once applied the eye dust is long lasting and doesn't have that annoying habit of sitting in creases like a lot of eye shadows do. Unlike an eye shadow this is a loose powder, which can be a little bit tricky to apply and like all eye dusts you are guaranteed to get glitter in places you did not intend it to go! No matter how careful and precise you are, one of the main problems with eye dust is that it ends up all over your bathroom.
Ok so shimmery eye dust is not an every day essential but it is way to achieve a fun, eye-catching look for a night out.A word to the wise; don't reapply after a few shandies because you will end up with glitter everywhere!
Famous by Sue Moxley Shimmer Eye Dust Review
Product:
 Super shimmery eye dust
Longevity:
 Long lasting and wearable
Affordable:
 I picked this up on sale at Superdrug for £2.00!
Easy to use: Like any eye dust it can be a little difficult to apply.
Availability:
Currently on sale, pick one up while you still can.
The Verdict: 8/10 Not an everyday essential but a fun way to add a touch of fun and glamour.