If I had to choose one trend this season, no doubtfully it would have to be black leather. And I don't mean the black leather mini-skirt in your closet since 2009 which you have been pairing with a denim shirt ever since (although you can keep on wearing that!). No, I mean the total black leather look that makes you look fierce, edgy and chic, all at the same time. Maybe I should show you some visuals and stop with the bla bla, prepare your eyes for sparks of greatness*...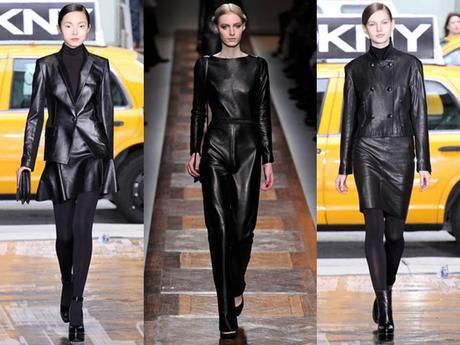 Fall Winter 2012 Ready to wear collections - DKNY, Valentino (style.com)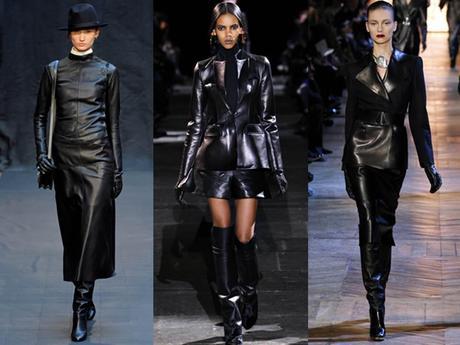 Fall Winter 2012 Ready to wear collections - Hermès, Givenchy, YSL (style.com)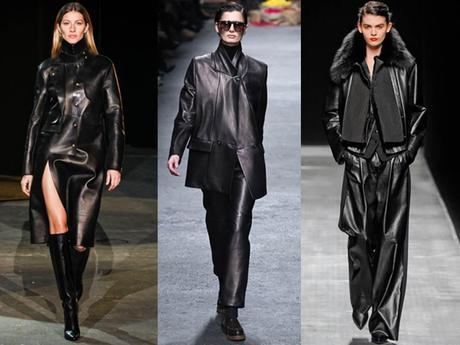 Fall Winter 2012 Ready to wear collections - Alexander Wang, Trussardi, Sportmax (style.com)
Not convinced with the total look of black leather ? Then you will probably prefer the combo of black leather with other black pieces as seen on DKNY. I could wear any of these outifts every day in the fall...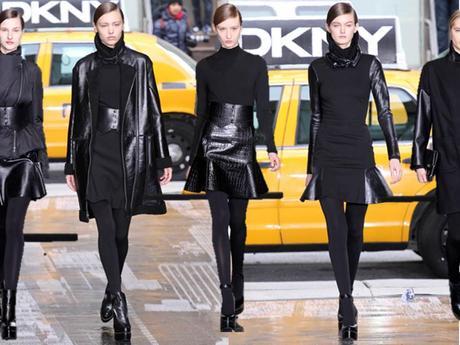 DKNY Fall Winter 2012 Ready to wear collection (style.com)
So girls, what do you need in your wardrobe to rock black leather this season ? That's easy, you need at least three of the following pieces: a cool top, statement leggings, a skirt, a big waist belt, a modern jacket and a pair of long gloves. If you already have all of these, you're a lucky rocker girl, I'm super jealous and you can stop reading this blog post. Now.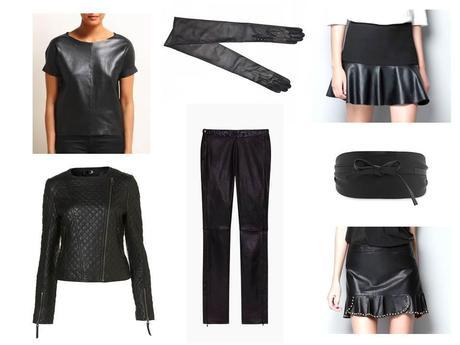 From top left: short sleeve top (maje), Dents leather gloves (harvey nichols), flare skirt (zara),
quilted leather jacket (topshop), leggings (
sandro
), waist belt (mango), skirt with frill and studs (zara)
Now, if you're a leather
freak
fan and want to go all the way, you need to go a step further and get your hands on a black leather coat. I know I would, if they weren't so damn expensive !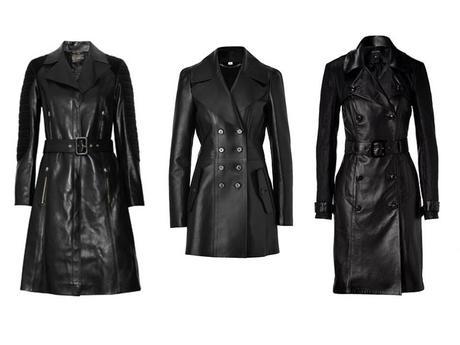 Versace quilted coat (
net-a-porter
), Burberry double-breasted coat (
stylebop
), Jitrois trench coat (
stylebop
)
Enough about the trend, more interestingly, how are YOU going to wear black leather this season?
xx Marta
* I heard a colleague using the expression "sparks of greatness" earlier today in a business meeting and instead of bursting with laugher I promised myself that I would use these words in the blog.