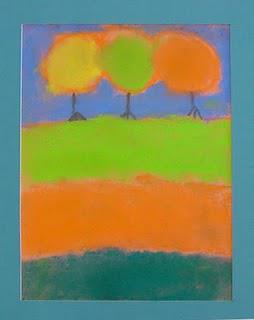 This kind of loose, simple landscape lets chalk pastels do what they do best – make smudgy, soft shapes.

1. Give the students a narrow sheet of construction paper, and instruct them to draw a ground line 1/3 of the way down. (Skip the pencil and just draw directly with the chalk.)
2. Next they should draw 3 round circles for the trees and fill them in with fall colors. Rubbing with fingers softens the shapes.
3. The sky background should then be colored and blended in.
4. Add clean dark lines for tree trunks.
5. Divide the ground area into three sections, color and smudge to soften.