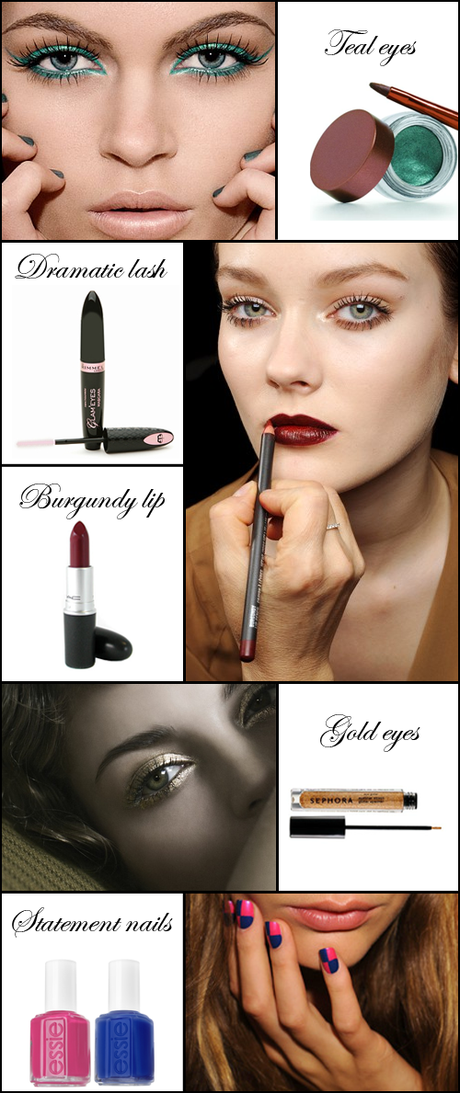 I have a minor makeup obsession. I can literally spend hours in a makeup store just admiring all the beautiful colors and fun new products. It's just so pretty! And this season, I can't keep my eyes off of:
Teal eyes. Or is that seafoam green in the picture? Regardless, I'm totally drawn to the greenish-blueish eyeliner craze.

(Image)
Dramatic lash. All my life I've wanted Bette Davis Eyes. At first it was because that song rules but then I realized that Bette Davis' eyes are beyond gorgeous. And I plan on mastering the look this fall.

(Image)
Burgundy lip. I'm a huge fan of lipstick, and though it requires a ton of maintenance, if you're not planning on eating or drinking or kissing, there's no better way to add major drama. 

(Image)
Gold eyes. This definitely reminds me of makeup I had in middle school -- in the best kind of way. With a high bun, some nude lips, and tons of mascara, gold liner can be chic.

(Image)

Try: Sephora Glitter Eyeliner
Statement nails. Emily's collection of statement manicures on Cupcakes and Cashmere are everywhere -- yet I still completely love the idea.

(Image)

Try: Essie Nail Polish in Fiesta and Mesmerized
Hey, at least makeup is cheaper than clothes!