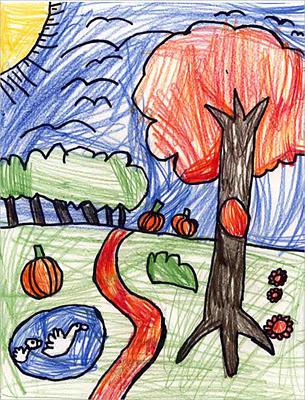 The first step in learning perspective is noticing that close items appear larger than those farther away. Recently I showed students how they could draw trees in this manner, and let them add details as they wished.1. I showed students how they could draw a large tree that showed branches and roots, to give them a little more realism. I also illustrated a simple way to draw lots of little trees in the background. Any other details they imagined in their landscape were welcomed.2. Pencil lines were traced with a black Sharpie.
3. All of the art was colored in with color pencils.
Can you believe this adorable drawing was made by a kinder? Thanks to Koa for letting me share his artwork.