The runway shows don't just start fashion trends, they also start beauty trends.  Designers use hair, makeup and nails to compliment their designs and create a complete look.  There are lots of trends to try this fall.  I selected a few of my favorites from the runway.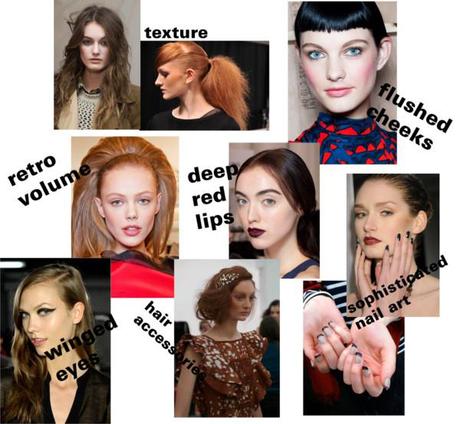 You don't have to spend a fortune to try a new beauty look.  There are products and tools available at your local drugstore or discount store.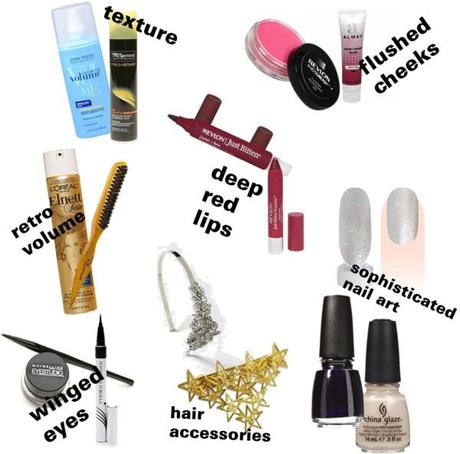 Texture and Volume
Many of the same tools and products that work for texture also work for volume and vice versa.  A root volumizer, dry shampoo, and a teasing brush topped with hair spray can create a style with texture or with retro volume. The techniques are also similar. With volume, you'll just need to smooth the outer surface layer.
Flushed Cheeks
Cheeks that are flushed have the look that you've been in the sun or out in the cold.  The color looks like it's coming from within.  Using a cream or gel blush or a stain will give you this look better than a powder.  These products will also last longer.
Deep Red Lips
Rich plums, burgundies and maroons are the colors of fall lips.  Prep is key when wearing dark lipstick.  Exfoliate your lips using a lip scrub or just your wash cloth.  Then add a light coat of lip balm.  These steps will help your lipstick to wear longer and will reduce feathering.  If you are wearing lip stain, exfoliate but skip the lip balm.
Winged Eyes
The beauty of a winged eye is that you can go subtle or bold.  You can get the same effect with liquid or gel eyeliner, depending on your personal preference.  This tutorial from The Beauty Department will help you with the basics. The drama is up to you.
Hair Accessories
Statement hair accessories are an easy way to dress up a simple hair style.  There are lots inexpensive options at discount and accessory stores.  Select something that fits your personal style. Sparkly or geometric, clips or headbands, the possibilities are endless.
Sophisticated Nail Art
This fall nail art is all about metallics, classic colors, reverse french manicures and half moons.  Nudes, navys, and chrome dominated the options on the runway.  The designs were sleek and simple. They'll fit in at the office as well as a night out. If you've shied away from nail art because it was too young and cutesy, these fall options may be right up your alley.
They key to any trend is to make it work for you.  It's also a fun chance to try something completely new.  Pick up some inexpensive products from your local drugstore and try a trend on for size.  I recommend CVS (if there is one in your area) because of their extremely liberal return policy. You can return any nonprescription item within 30 days, with your receipt (open or unopened).  I just tried out a new deep red lip stain.  After trying it out, I knew the color wasn't right for me. I returned it to CVS and got a full refund.  That's no risk shopping!
I'll be trying out lots of these trends over the next few months.  Will you be trying anything new?