If you know me, you know that Autumn is hands down my favorite season!  I LOVED going back to school as a kid(yep, I was one of those people), I love the sunshine during the day accompanied by cool nights, I love the changing colors as mother nature prepares herself for a long rest, I love the bounty of the harvest in the garden, the new TV line-up, Pumpkin-Spice Lattes, my birthday in October, Halloween – and the holidays just around the corner… I could go on for pages.  My seasonal love-fest got me wondering what's really at the root of my fond feelings for Fall – what is it about this season that feels so magical to me?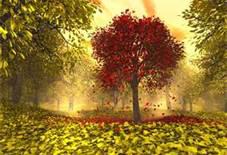 Change in all of its Brilliance!
Some of Fall's appeal lies in the reality that the season ushers in change, while simultaneously surrounded by rituals and traditions.  It's the best of both worlds!  I also feel more connected to people over the next 5 months or so while we as Americans head into a variety of holidays.  This conjured up an idea that's been tossed around over the past month: People who struggle with emotional eating are often craving more than just food, they are craving a deeper connection to people, and a deeper more meaningful life experience.  Ding ding ding!  I have struggled with emotional eating(still do) all of my life.  Never once did anyone explain this possibility to me before – and now I've come across it at least twice in one month.
One of my fears about embracing the HAES concepts, is that I would not be accepted by the community if I mentioned my struggles with food, and body image.  I also worry that clients will shy away because I am a Health Coach – obviously I should have it all together.  Both of these lines of thinking are unrealistic, and very limiting.  I doubt that any person comes to the decision to live the HAES principles without their share of struggle in relationship to food, or body image.  Making the decision to stop dieting and start living HAES does not mean we are magically freed from the struggles we have faced, many of us – over our  lifetime.  HAES does offer a new hope, and a new perspective – but struggle free is not promised.
As far as the "Health Coaches have it all together" expectation, do we expect teachers to know everything, doctors to heal everyone, IT folks to know every computer glitch?  No, no we don't.  Why then, is it so common for people to look to health professionals to be perfect?  Especially given that health is so individual and ever changing?  It is not fair, not realistic, and it's not good business.  We go to doctors all of the time without questioning or judging their health, and I'm pretty sure we don't question their knowledge if they make personal choices we don't agree with.  So again, why are Health Coaches held to a different standard?  The same goes for me as a a HAES Health Coach.  I am not perfect, and to pretend that I don't have my moments of struggle is perpetuating the false belief that perfection is possible or even worth shooting for.  It's not.  The Diet Industry can keep perfectionism, there is no place for it here!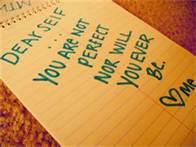 The Diet Industry Can Keep "Perfect"
If you enjoy this time of year, I invite you to stop and take some time to think about what it means to you.  Fall is a time for our bodies(and minds) to prepare for change, for quiet, and for rest.  So take advantage of what you love to do most in this beautiful season – enjoy the earth, enjoy your favorite foods, and enjoy them with the company of people who fill you up the most!
"There is a season and time to every purpose, turn, turn, turn…"