Sorry for the lack of posting. I've been and am still a bit under the weather.
There are only two trends left in our Fall 2012 Runway Trends series.  Today it's one of my all time faves, Menswear.  I love borrowing from the boys.  It's fun to wear oxfords and an occasional tie.  As much as I love dresses and skirts, pants are always comfortable.  The trick is wearing the menswear trend in a feminine way.  You can embrace the trend without looking like you are trying to be a man.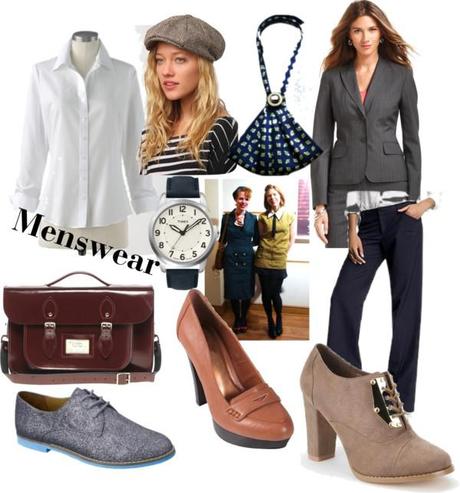 When I am embracing menswear, I think it's best to start with the basics. You can never go wrong with a great fitting pair of pinstripe pants. A basic white button up shirt is a staple for menswear style as well. A tailored blazer can be worn with dress pants as well as with jeans or shorts. It's a polished piece that will pull your entire outfit together.
If you just want to add a touch of menswear, go for accessories. I own several pairs of oxfords and love them as an alternative to sneakers.  The new crop comes in tons of colors and styles, like this metallic pair with blue soles from Target.  If you love heels, you can grab a pair of heeled loafers or oxfords.  They work with skirts or pants.  A little over a year ago I was introduced to Ginger Root Designs.  They have a great little boutique in DC or you can check out their online shop.  These ladies create the most fantastic upcycled clothing and menswear style accessories for women.  I'm in love with their Lady Ties.  These fantastic accessories are created from old and damaged men's ties and sometimes vintage buttons.  Not into ties?  Throw on a newsboy cap or grab a cross body satchel.  This one, in oxblood, by The Leather Satchel Company has a top handle which gives it a briefcase feel.  Top it off with a large men's style wrist watch.  It lends that menswear feel without being overpowering.
With just a few additions, it's easy to sport the menswear trend.