As I'm writing this post, I just realized that all of the leather items I chose are black (well one is gray).  I love leather and faux leather but I have a special love for black leather.  I think it's the fact that I equate leather to toughness, rockers, and bikes (motorcycles not the kind you pedal).  Black leather is sexy, it's rich and it's bad ass.  Colored leather is fantastic, in fact I own several items that are colored leather and colored suede, not counting shoes.  You don't need a Harley to wear leather.  You can do it in a sophisticated way, with a pencil skirt or a peplum top.  If you don't want to do a full leather piece, go for leather trim on a coat or jacket.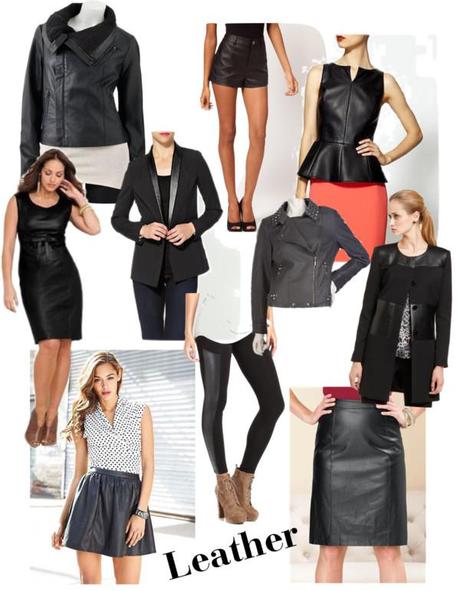 Click on the collage above for buying details
If you aren't a fan or real leather, there are so many fantastic faux leather options.  Most of the items above are faux leather.  They look great and they are less expensive than real leather.  Even if you're more ladies that lunch than lady rocker, you can make leather work for you.  A leather (faux leather) skirt is on my list of must buys this season. What's on your list?