Another installment in the Fall 2012 Runway Trend series, today we are focusing on the brocade and embroidery trend.  I've heard this trend referred to as brocade, embroidery and baroque.  No matter what you call it, the trend focuses on detailed stitched patterns and luxurious fabric. My favorite is the brocade skirt.  It's beautiful and versatile.  Dress it up with a blouse and heels or down with a t-shirt and flats. You can also carry the trend into jewelry with a statement necklace or a beautiful ring or cuff.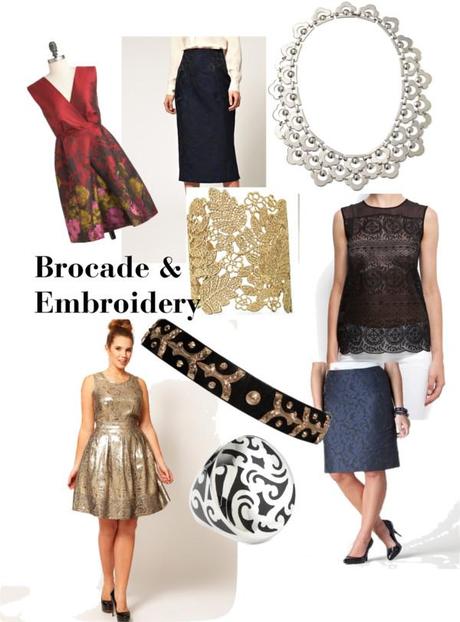 A pretty brocade dress will be timeless.  With a simple change of shoes and accessories, you will be able to update it for years to come.  A single brocade or embroidered piece can be the stand out of your entire outfit.  I own the Alexandria necklace by Stella & Dot (upper right corner).  I wear it constantly to work with my dress clothes and on the weekend with a t-shirt and jeans.  Every time I put it on, someone asks me about it.  You can even make your brocade piece look rock n' roll, just add that other fall trend, leather.
How will you be wearing this trend?