This recipe is so easy to make and is a great update on the regular breadcrumb coated chicken! The dry falafel mix has all of the seasoning needed as well. They are even better served with a tahini sauce and a salad on the side, or can even be made like a traditional falafel in a pita.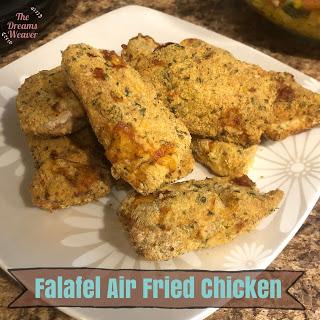 What you will need:
1-2 lbs. chicken breast (I cut mine in thin strips as chicken fingers)
2 eggs
1 cup all purpose flour
1 cup falafel mix
Spray oil for air fryer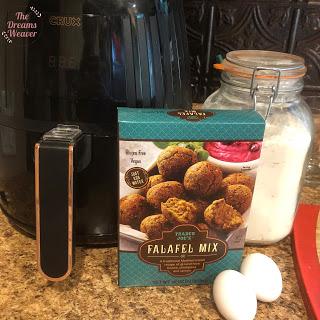 Spread out flour on a large plate. 
Whisk the 2 eggs together in a bowl.
Spread out the falafel mix on another large plate. 
Coat each piece of chicken in flour, shake off the excess, then dredge in egg, and finally into the falafel mix. 
Spray the air fryer insert with oil, place the chicken in, and then spray the tops of each chicken piece. 
Fry on the poultry setting for 15 minutes (375 degrees.) if you don't have an air fryer you can even bake in the oven or fry in a skillet on medium-high heat for 3-5 minutes per side. 
Enjoy!