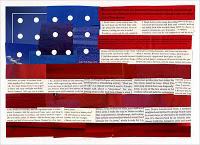 Faith Ringgold, an African-American artist, is best known for her large story quilts. In 1985 she made a piece titled
"Flag Story Quilt"
which inspired this collage.
1. In order to get students cutting right away, I plan to give them this template to follow, printed on a 8.5" x 11" cardstock. They will get several magazines with the goal being as follows: red swatches of color are cut and glued inside the long boxes,
magazine type in between
, and blue swatches in the large rectangle. These are all done in pieces, overlapping when necessary. In other words, students are to combine smaller pieces to fill each area.
2. After all the gluing is done, students will receive lots of little white circles cut from a hole punch. With a glue stick, they cover the blue rectangle with glue and then arrange the white circles on top.