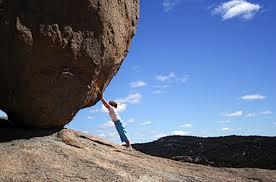 I'll call this Thursday Faith Day because of the quote we have.
With a theme like obstacles the mind is allowed to stretch out and question.
From what do we do with the obstacles we face, to how we look at things, are they really obstacles or simply opportunities to build strength and character?
Donald Douglas gives us today's quote,
"It is a hard rule of life, and I believe a healthy one, that no great plan is ever carried out without meeting and overcoming endless obstacles that come up and try the skill of man's hand, the quality of his courage, and the endurance of his faith."
Another short check list on how to live:
Skill – and when your skill is tested it sharpens the skill or allows you to learn new skills.
Courage – which we only know and understand as we are called to bring it
Faith – what do we believe?
As I go through my life and take on new ventures I am constantly confronted with things I do not know, or feel overwhelming or frightening and I have to ask myself – can I do this?
And then I must conger up my faith – my belief in myself and in my ability to learn it and use it -
You Create Your Day by the way You Think! Be Present!
Go make it a Magnificent Day!
Blessings, Shawna