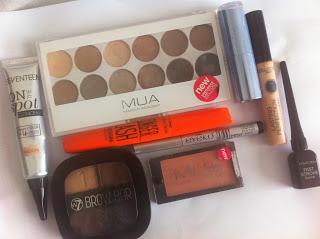 Today I have a post about budget makeup pieces that I love! Most of these products are available in drugstores such as Boots or Superdrug. In my recent haul I featured the On the Spot Concealer by Seventeen, I tried this for the first time yesterday and I am wearing it today. This concealer has excellent coverage and is creamy making it easy to blend into your skin. Although I have this in the shade medium it is perfect for my skin tone and I am reasonably fair skinned. This product is still a budget product in my opinion and retails at £4.99. The alternative to this product on a lower budget for me is the Collection Lasting Imperfection concealer at £2.99. 
I am always filling in my brows, as I have a few gap areas in the outer arch. I picked up this W7 Brow Bar from Bodycare (UK Store) for £2.99. If you are new to eyebrow products this is a great product to start with. I use shade 3 in the palette, as I have dark hair. The palette comes with 4 shades allowing it to cater to everyone's eyebrow tones. 
As you know I recently purchased the MUA blusher in Cupcake, any of the MUA blushers- cream or powder are excellent products for a beginner makeup kit. At £1, many different shades are available. These are highly pigmented and easy to blend. I have included by Eyeko eyeliner in this post which I got as a freebie in Glamour Magazine. This eyeliner is a pen style, and is easy to apply. As an alternative to this product I have chosen the Fast Stroke eyeliner by Collection. This eyeliner is a small foam applicator and for £2.99 is a great budget buy. Lipstick is a very easy thing to get on budget, but everyone's tastes are different. 
I have tried the MUA lipsticks which retail for £1 which I think are amazing, although I have chosen to feature this Nivea Intense Moisture lipstick I picked up in a local pharmacy for £1.49. The shade I have is bright red and has great lasting power. I also recommend the MUA lipstick in 13 if you like a red lip which also retails at £1. The mascara I have pictured is Longer Lash by Collection, this mascara is a thin plastic wand. It does not provide a lot of volume but makes your lashes longer and separates them well. NYC mascaras are also great on a budget, they provide great length and volume and there's one to cater to everyone's needs. The last product I have is the Undress Me Too palette by MUA. This palette is available in Superdrug for £4.00. This product is great for people starting out in eye shadow looks. It was my first purchase from MUA and I have loved it ever since. It has a variety of different colours to create natural beautiful eye looks.
I have included a wee photo below of me wearing the products featured above- the foundation I have on is the Whipped Cream Sample by Max Factor.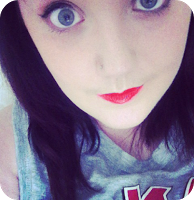 Thanks for reading

x