Last Saturday I attended my very first blogging event and had so so much fun! Although I've been blogging for over 2 years and have received a few event invitations during that time, I always found an excuse not to go as I wouldn't know anybody there and quite frankly the whole idea made me a bit nervous. So when the invite for FABB Glasgow came through a couple of months ago, I nearly did the same thing again. Long story short, I pushed myself to order a ticket and finally meet some of the lovely ladies behind my favorite Scottish blogs.
I'd arranged to meet a group of girls in Central station beforehand which definitely made me a little less nervous and now that I look back on it, there really wasn't any need to be nervous as everyone was so lovely and (in most cases) in the same boat as me. So off we wandered to Fanelli's, an Italian restaurant in Merchant Square which is where the event was being held.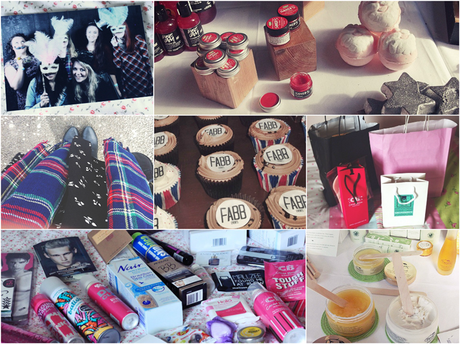 We were greeted by Tor and Ray who were so lovely & welcoming, and really did such a amazing job of putting everything together for the event! A number of beauty and fashion brands also attended the event and were on hand to talk to us about their new products, and even managed to surprise us with samples to take home and try. My favorite brands there were definitely Lush, Cocoa Brown (a popular fake tan  brand from Ireland which has just launched in Superdrug) and Beauty Kitchen (a 100% natural skin and bodycare brand from Scotland with the most delicious smelling products).
As well as all of the stalls to wander around, there were scrummy cupcakes and a fun photo booth which everyone definitely seemed to love! The photos were taken by Digital Guestbook and I managed to get a photo with some of the fab girls I met at the event. To round the amazing day off, we were absolutely spoiled with goody bags and samples which I had so much fun raking through when I got home. There are so many new brands in there that I can't wait to try out and I'll be sure to review my favourites in the next few weeks.
I just want to say a massive thank you to FABB Events for making it such a great day! The event has really got me looking forward to attending more in the future and also meeting up again with the lovely girls who I got to meet at the weekend. If you're like me and feel nervous about attending blog events, please just go for it and have fun because I really am so glad that I went for it in the end!