Illustrator Rich Fairhead got in touch and asked me to show you these personalised wedding prints, which I think are a brilliant idea! Inspired by the royal wedding, Rich – a freelance illustrator in London – created a personalised print of a commemorative plate for Kate & Will's wedding.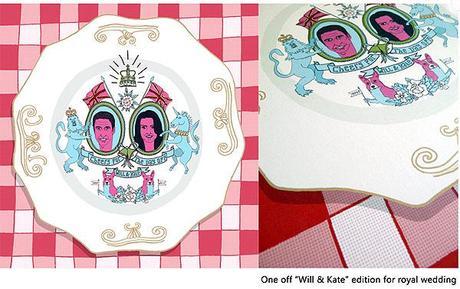 It was great!
…and then, Rich began to illustrate personalised wedding prints to commemorate more wedding days – and he's offering to draw you and your groom! One lucky English Wedding blog reader can win their very own print in celebration of their big day.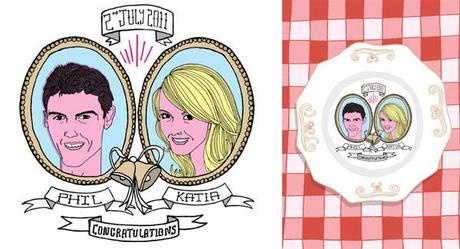 They make great wedding presents and quirky keepsakes – usually retailing at£64.99, one lucky blog reader (it could be you!) gets their own print, free.
How to enter for a chance to win your print
To enter the competition we need you to answer a very tricky question. Think carefully, then pop your answer in the comments box below. You must enter your email address, and all entrants' emails will be passed on to Rich in case he has any more special offers up his sleeve.
The tricky question
Who inspired the original royal wedding print?
Bart and Lisa
Ron and Hermione
Kate and William
A winner will be chosen at random on the 12th of September and announced here on the English Wedding blog. I'll contact you with Rich's email address, and you'll need to send a good quality photograph of your faces along with your choice of background colour for your print. Your print may take up to 3 weeks to arrive.
All illustrations are digitally printed on A3 220 g/m heavy weight paper and posted rolled. All plate templates are the same and there is a choice of two background 'patchwork' colours.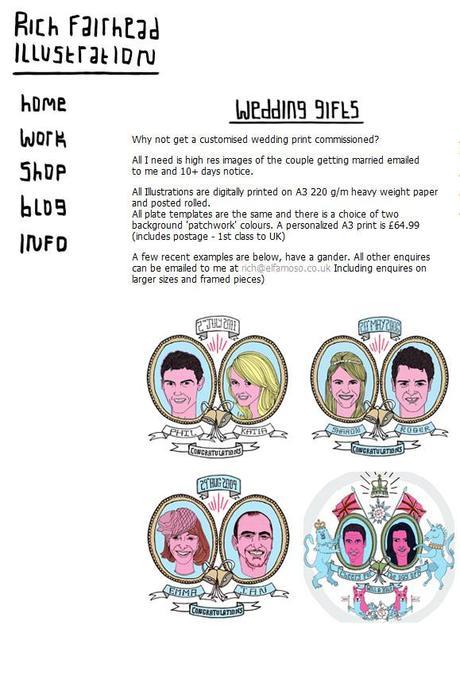 About Rich Fairhead
Rich Fairhead is an illustrator. He draws with pens in his hands everyday at his studio in south London. Rich is now part of El Famoso. A collective with bro, Chris Fairhead.  Rich has been lucky to work with clients recently such as Nike78, Saatchi & Saatchi, TheChicGeek and more.
www.richfairhead.co.uk