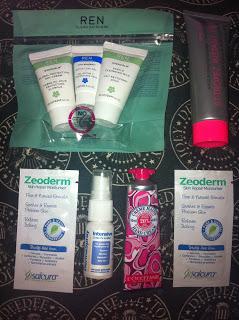 Hello! 
Today I also thought I'd share with you a few freebies I have gotten in the past few weeks!
The DermaSpray picture is from the Brand Salcura which I received along with the sachets of Zeoderm Moisturizers you see also pictured. This product is targeted for people with problem skin and people with skin conditions such as dermatitis. The product is a treatment spray, said to prevent itching and reduce symptoms. I have only tried a small amount of this product but I think true to it's word it definitely reduces redness and prevents itching.
Next I have the ST Tropez Instant Tan for face & body. This product is a wash-off tan and is in the shade light to medium. I got this tan free with my purchase of Cosmopolitan this month, which I am so chuffed with! I am not a regular fake tan user, but this is a perfect color and application is easy. 
In Marie Claire this month you get a free Locctaine Hand Cream with every issue. I received Rose Tenderness in my issue, although I think there are 3 different scents available. I think this product is great for those who have dry skin on their hands or rough skin.
InStyle magazine, are giving every customer who buys the October issue a free REN skincare starter kit. This kit includes Global Protectant Day Cream, Active 7 Eye Gel and Gentle Cleansing Milk. I havent tried anything from REN, although I think this is a great freebie to get as REN is quite pricey on some budgets.
I think all of these products are great and even better when free! 
Thanks for reading

x