Nina Simone actually inspired this post, I've had a good week and yes, I am feeling rather good. Pandora sealed the deal for me when I was getting photos together for this post and "I'm Feeling Good" suddenly blasted through my laptop speakers. Maybe it's the wonderful weather we've had this week, excitement for the summer, or just plain ole happiness, either way this chick is feeling good.
This week, I sought inspiration from the internet for my Fab Fashion Finds. I found 2 things this week that I absolutely adore. The first one is the Gretchen Metallic Clutch from Juicy Couture in a pretty shade of pink. This cutie pie was on sale half off the original price and will work well for the summer. The second is the trinity wedge from Matisse that I purchased from Hautelook for half the retail price. Hautelook is becoming my favorite sample sale website because every day they have awesome items for sale. Sign up today to be alerted of upcoming sales and save more than a buck or two.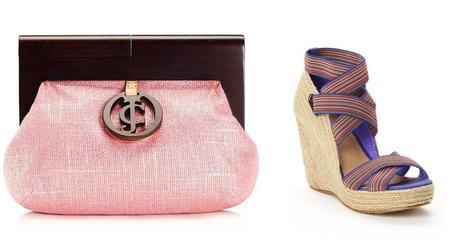 Remember I said this season was all about color for me so I purchased a new set of bracelets from Amrita Singh in a gorgeous shade of pink. I was on a waitlist for these from Ruelala and they finally came in. Sign up for Ruelala here, you won't be disappointed.
I walked in Walgreens this morning and was instantly attracted to the bright colors of nail polish on sale. So I bought 4 bottles, 2 from Sinful Colors (Dream on & Happy Ending) and 2 from Sally Hansen (Lickety-Split Lime & Hard Lemonade) a girl's fingers and toes got to be cute this season as well! The total for the 4 bottles was less than $10.00 which is a good deal on Sally Hansen.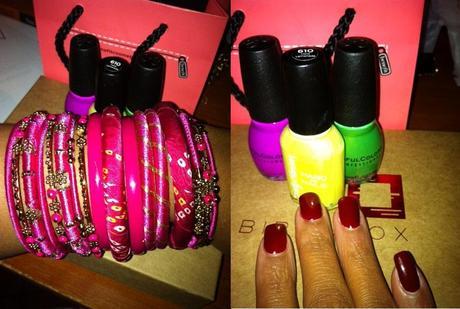 Lastly, I received this statement necklace and this super cute Echo scarf in my May Little Black Bag. The necklace is by M.Haskell and it really is an eye catcher. The scarf as pictured looks like it's white and a dark shade of yellow but it's actually pink & coral like color. I wanted to take a super cute picture in the scarf but honestly, I have NO idea have to tie this scarf fashionably like I see on models. Scarves have evolved into one of the cutest accessories. In the past, I used scarves for 2 reasons, to tie my hair up at night and to keep warm. After I finish this post, I will be searching YouTube for videos on cute ways to tie scarves.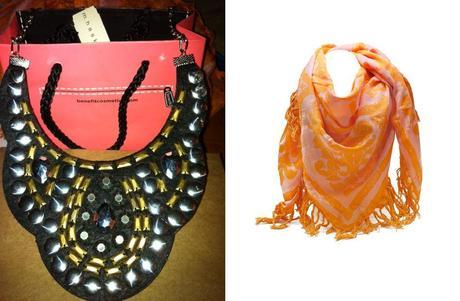 Have a wonderful weekend♥