Hello lovelies,
How are you all doing?? Today I shall be sharing my FAB BAG which I received for the month of September 2015. Before I go any further I would like to congratulate the FAB BAG team  on their 3rd Anniversary. I have been associated with them since March this year and I loved most bags I received since then. They have had trouble with shipping on time & a host of other issues  but they have improved so much over the last 3 months - kudos to that!! Receiving a FAB BAG every month is really exciting as you do not know what you are getting in the bag. This is their anniversary bag hence read on to know my thoughts about the same...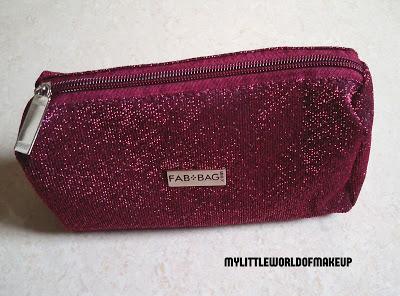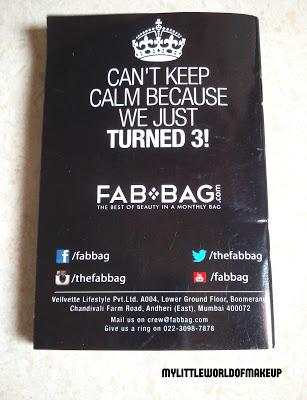 FAB BAG is a subscription service which can be opted for a single month, 3 months, half year or for the entire year. The longer the duration of your subscription the more discount you get☺I also like the fact that they keep in mind your likes and dislikes while sending you the product for which you need to answer a set of questions for them to send you the products.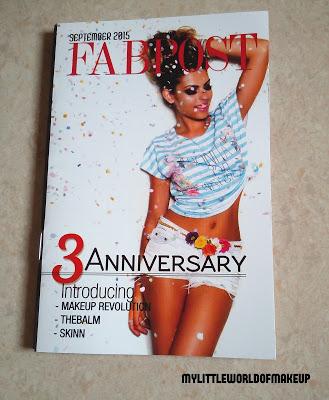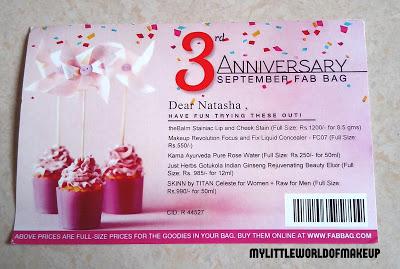 Their prices of the subscription services are as follows:Monthly - Rs. 599/-3 months -  Rs. 499/- a month6 months - Rs. 449/- per monthThe Whole year -  Rs. 399/- per month.Price of this bag is Rs.599/- You can buy it here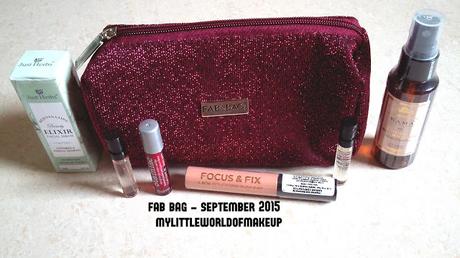 Every month you receive a new bag which is exciting and theme based. This month since it is their anniversary it had to be glittery & red.You know how I love the color RED ♥ The pouch is of good quality and can be used to store make up. The bag came in their cardboard with all the goodies, their FAB POST booklet and  a card with a list of the goodies in the bag. It reached me on the 3rd of September - I am happy about that :DOk so let us look at the products I got this time.. 1. theBalm Stainiac Lip & Cheek Stain ( Full size - Rs. 1200/- for 8.5 gms)I got a sample size of 1.2 ml. It is a pinkie red stain which can be used on the lips & cheeks. How it shows up on your lips will depend on the pigmentation on your lips. I had to layer it on 2 to 3 times. Honestly I would have preferred a lip gloss. Let me see how this holds up on me I have just used it once ☺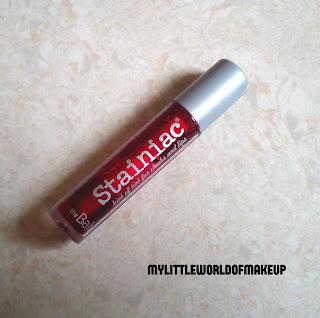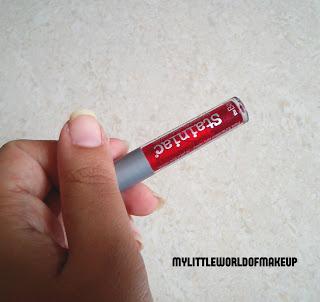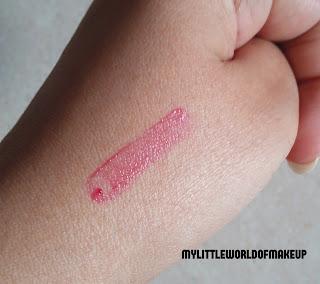 2. Makeup Revolution Focus & Fix Liquid Concealer - FC 07 ( Full size - Rs .550/- )Concealers make me happy as I have really dark circles. Hence I never step out without one. I like creamy concealers as the area below my eyes is a bit dry. Also it comes with a wand which I love love makes life so easy. I am not sure if this shade works for my skin tone. Will keep you updated about the same.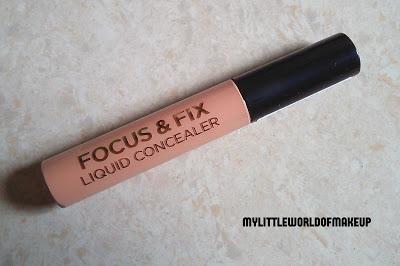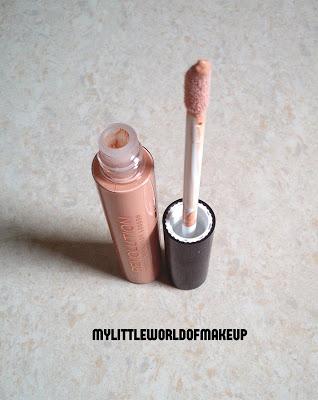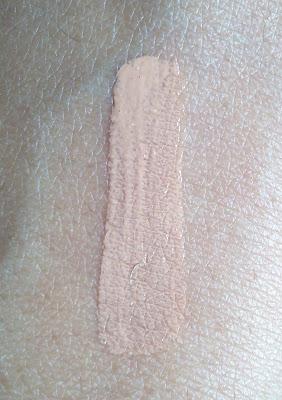 3. Kama Ayurveda Pure Rose Water ( Full size - Rs .250/- for 50ml)I received a full sized bottle. It comes in a spritz bottle. The smell is lovely. I did try it on my face and I really felt refreshed. This is a must try in my opinion ☺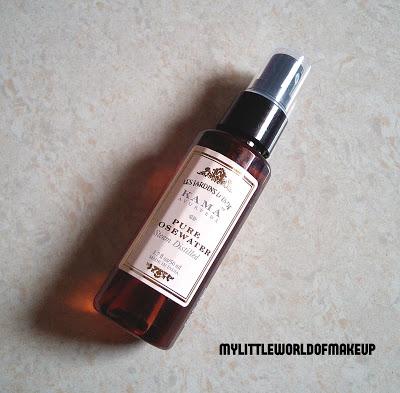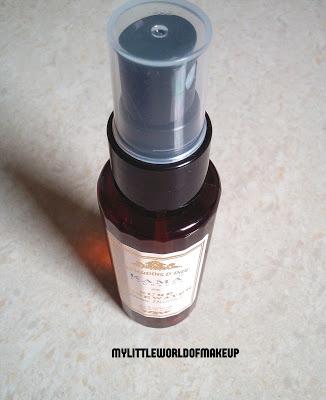 4. Just Herbs Gotukola Indian Gineseng Rejuvenating Beauty Elixir ( Full size Rs.985/- for 15ml)
I am really excited to try this product as this would be my first face serum. Ginseng is amazing for the skin and I couldn't be more happier. You can use this to your night cream or gel to boost its effect on the skin.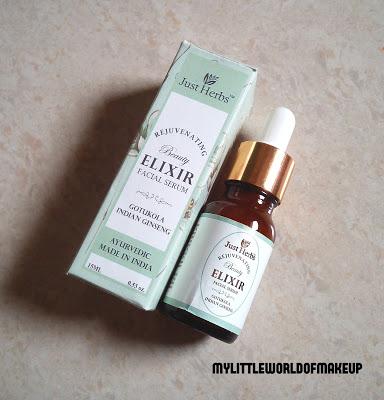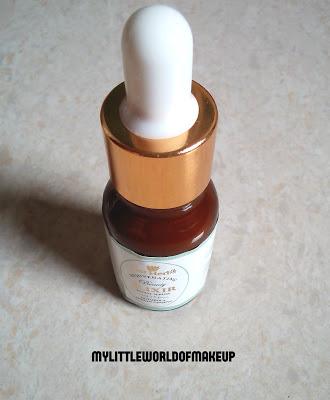 5. SKINN by TITAN - Celeste for Women + Raw for Men ( Full size - Rs .990 for 50 ml)I received 2 sample sized perfumes. I liked the fragrance of both the perfumes.Much better than any I have received before.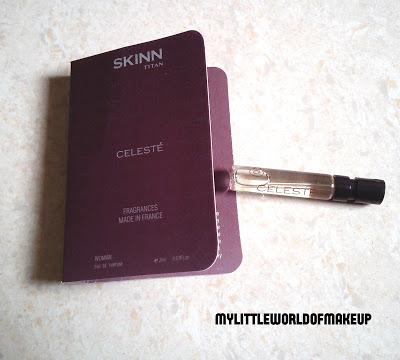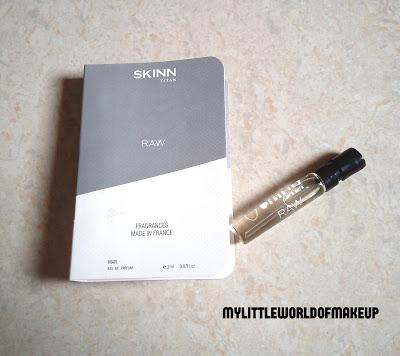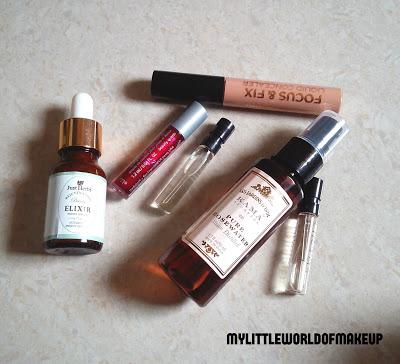 Overall I would say the products I received are good this month. The pouch is cute and the serum & rose water are my favorite. I am yet to test the concealer - I am not sure if it is the right shade for me. If not will have to mix it with some other concealer. I would have preferred a lip gloss or lipstick over a lip stain honestly. Now that is just my opinion. The cost of the products received does cross the actual cost of the bag which makes the bag worthwhile. I really like the concept of a mixture of products to try on but when make up is there I am much more happier.I hope this review was helpful to all those reading. Kindly comment below with your inputs. New bloggers may leave their links for me to check out and let me know in the comments section what you think of this months FAB BAG ☺Until next time.. Have a FAB MONTH ☺♥

P.S: The bag was sent by the brand for consideration. My reviews are honest like always