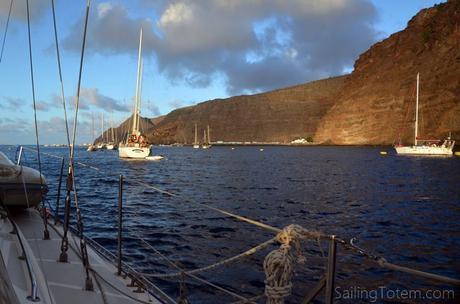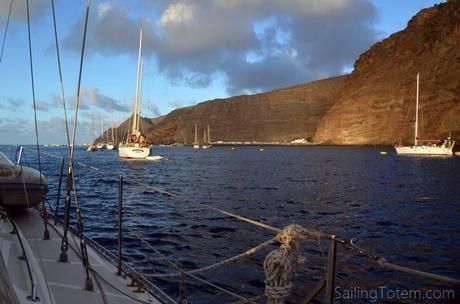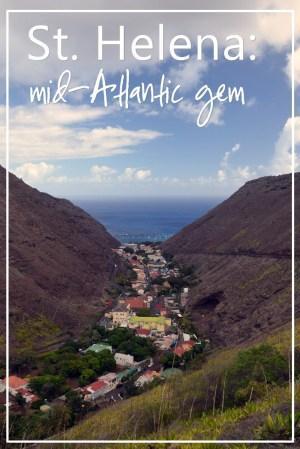 St Helena is exceptionally isolated. The nearest point on Africa – Angola – is about a thousand miles away. Brazil is nearly 2,000. There weren't any humans here in 1502 when Portuguese were first reported to visit. Arriving by boat, the steep rock face of the cliffs may not seem inviting, but for hundreds of years it's been an invaluable provisioning stop: ships sailing from Europe to the "far east" could get fresh water, and later provisions from farms.
Signing up at a tourism office for guided tours aren't our usual approach but it felt like the best way to quickly learn a lot about this unique little (four by eight mile) island. But as a truly special place, one we don't have much time to experience, it felt like the right kind of splurge to learn a lot quickly.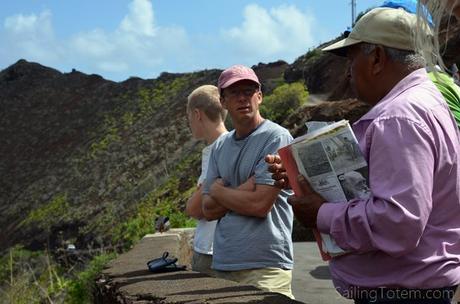 Our tour guide is an islander of many generations, and like a lot of Saints- yes, that's what they're called!- claims roots that reflect the mix of cultures that arrived here over the centuries as colonialists, their indentured workers, or slaves. "I think my family was Indian; my wife's more Chinese."
Heading inland from the waterfront, Robert gave us a birds-eye view of the largest (and oldest) settlement, Jamestown.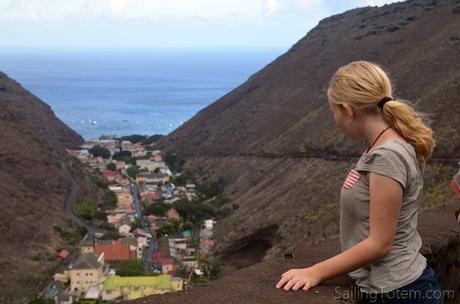 It's been more than 300 years since the English made it an Atlantic base, and the town is full of colonial-style buildings. Narrow streets are built for pedestrians (or carriages, or mules); cars, not so much, but a number squeeze in anyway.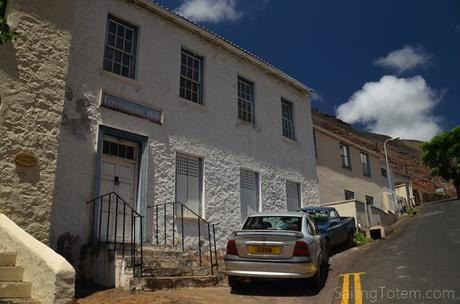 St Helena is probably most famous as the remote residence of Napoleon Bonaparte, who spent his last years in exile here. The serene little glade where his tomb is located; it's empty (he's long since been re-interred in Paris) but embraces the visitor into reflective peace.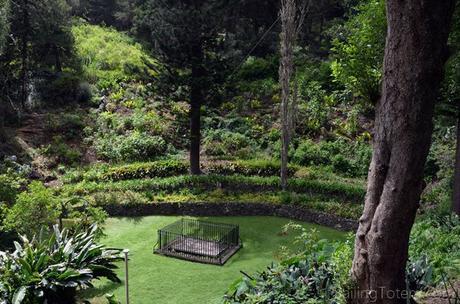 That is, until the kids start tearing around. They couldn't resist running on the mossy path…barefoot, of course.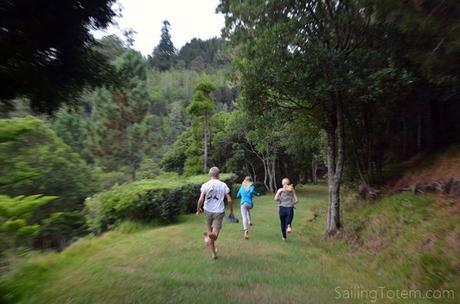 St Helena has only been accessible by water, but a new airport is scheduled to open in May. The island, mostly supported by the UK, hopes to develop an economy based on tourism. But change comes slowly, and there aren't actually any new hotels to accommodate an influx of visitors…yet. Robert takes us along winding ridgetop roads to the far side of the island, where the massive landfill and construction project nears completion.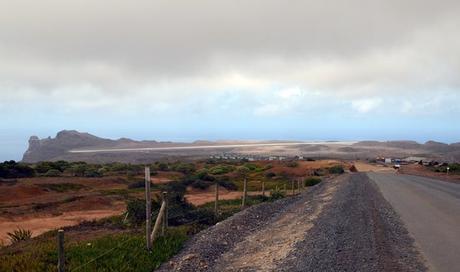 The island's peak is nearly 2,700 feet (over 800m), and on an island this small, the moutaintop and high ridges drop steeply to the sea. Our meandering path (meandering is the only option) has a lot of hairpin-curved switchbacks like this one.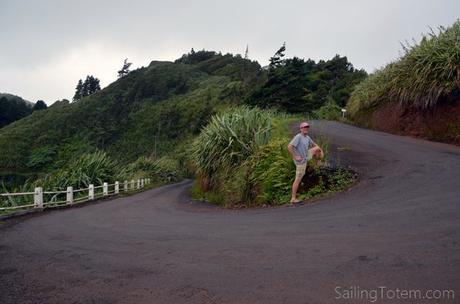 It also creates stunning microclimates, with dramatic diversity. From the colorful but barren moonscape near the airport, to the cloud forest that covers the higher elevations, the views are breathtaking.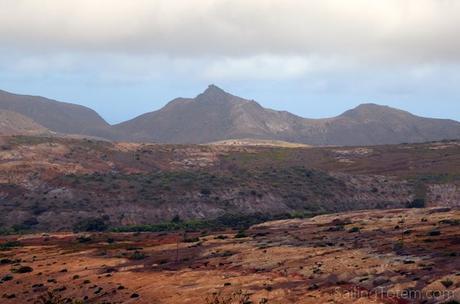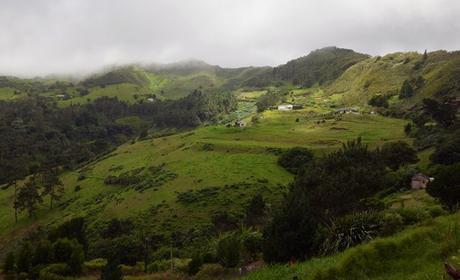 On an island this small, those microclimates literally bump right up into each other.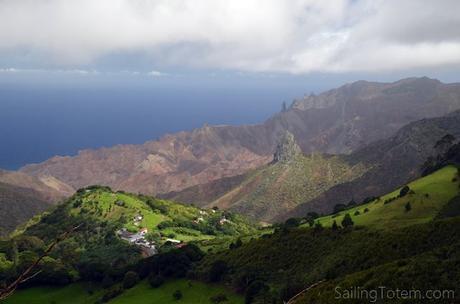 In the early twentieth century, an economy based on growing flax for rope, but synthetic fibers eventually killed the industry. Flax plants, introduced from New Zealand, still dot the island – we're told they're not considered a harmful invasive, as they help prevent erosion and keep other noxious weeks down. Robert shows us how to scrape pulp off the long, spiky leaves to find the strong fibers inside.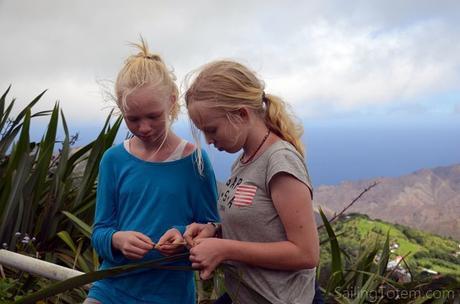 He tells us about working in a flax processing plant from the 1940s, when he finished school, and twines a strand of flax around Siobhan's neck. "I think that's about 50 years old," he says.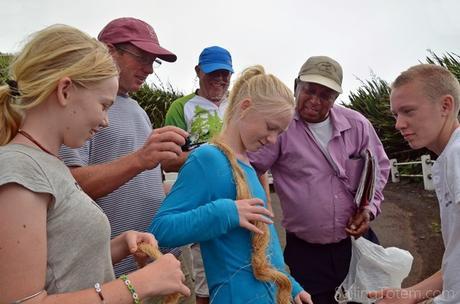 No island tour is complete without a visit to the governor's residence – partly for historic interest (it's a striking 18th century mansion), but also because it's home to Jonathan…a Seychelles giant tortoise gifted in the 1880s and possibly the world's oldest living animal. Speculation ranges, but he's thought to be in his 180s. WOW.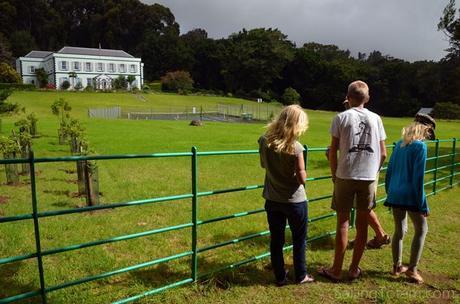 Sure enough, he's on the lawn in front of the mansion, happily munching away in the grass.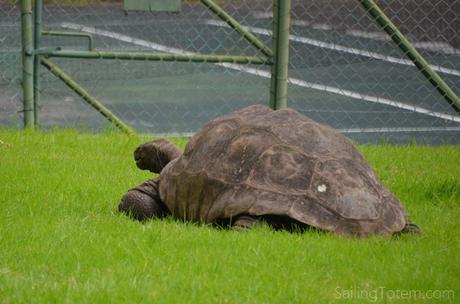 One of the kids' favorite moments from the day: meeting donkeys on one of the ridgetop farms. Robert brings them ginger biscuits, and they literally came running- well, as close as donkeys get to running- when they heard the horn of his van.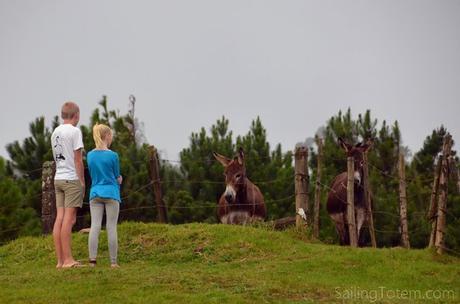 Niall, our military history buff, is most fascinated with the fortifications and sites associated with Napoleon. We visit a few, but many are impossibly perched in cliffsides.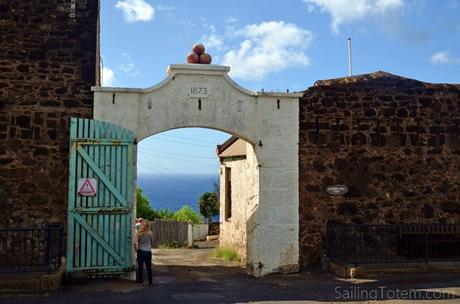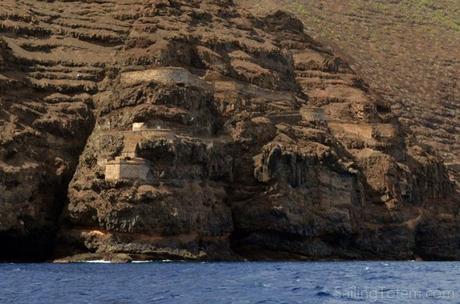 I love the more recent relics around St Paul's Cathedral, where a plaque commemorates Saints who fought in The Great War.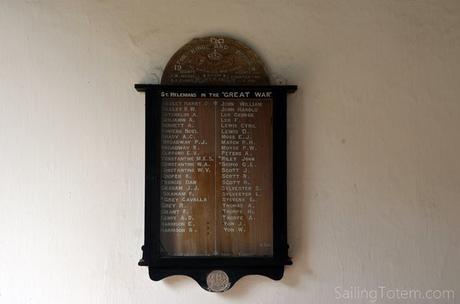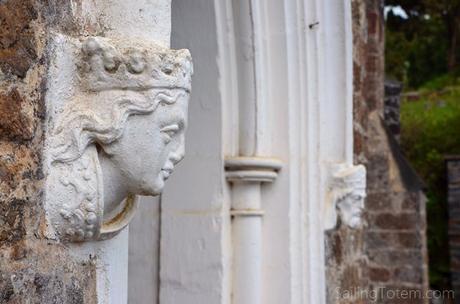 We get an advance peak at the view from the top of Jacob's Ladder, the obligatory climb for all visitors to the island. I'm not ready to climb the 699 steep stairs to the top yet…maybe by the weekend.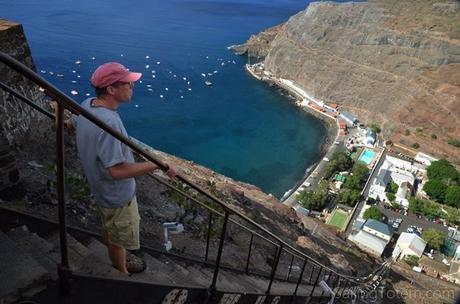 Robert Peters was an incredible tour guide. He teased us to guess his age, and eventually copped to 80. His wealth of knowledge, "stories" of the old days, and historical references (frequently sharing pictures of sites or visitors from a well-used notebook). He gave us a thorough and unforgettable introduction over the course of the day. Even Visitors can request him at the tourism office.